If you're looking for a way to reward employees and keep them engaged, you should look at the BeNFT project. BeNFT is a platform that allows employers to generate Soulbound NFTs, which can be gifted as a form of employee recognition or incentivization.
BeNFT is shaking up the NFT industry by offering a groundbreaking solution that puts employees in control of their NFTs, incentivizing new users to harness the power of blockchain technology.
Company purpose and problem-solving ideas
The effects of a disengaged workforce are being felt firmly around the world. Organizations are experiencing diminishing returns and lessened motivation, with employee numbers decreasing rapidly. The burden of heavy workloads, low job satisfaction and unfavorable working conditions leads workers to consider alternate opportunities regardless of how slim those chances might be. 
This is why BeNFT's commitment to providing meaningful rewards is so essential: it is an attractive option for employees looking for ways to engage with their work again. Through its innovative model of incentivizing performance, the BeNFT platform aims to increase productivity and cultivate a sense of recognition for all involved. 
BeNFT is revolutionizing the way employers measure employee performance. By utilizing NFTs and blockchain technology, employers can reward collaborators with unique, irreplaceable digital artwork for favourable metrics, KPIs, attendance and other positive behaviours. BeNFT ensures that these artworks remain unique and secure, giving employees a sense of belonging to something special. This system also gives employees the power to hold onto this artwork for life and trade it amongst friends or sell it for profit. With BeNFT's innovative approach to workplace rewards, employees will be further motivated by tangible recognition they can own.
With the rise of Decentralized Finance (DeFi) and Nonfungible Tokens (NFTs), BeNFT has emerged as an innovative platform that combines these two fields to create a versatile system. BeNFT is an SPL contract built on Solana that can accrue utility and NFT tokens that can be withdrawn to $BeNFT or Stablecoins. Adding to this, BeNFT aims to tokenize NFTs by giving them value in the point system, essentially allowing them to be used for various purposes. Furthermore, with the contractual feature that allows auto-funding of accounts, BeNFT can be quickly sent to any Phantom Wallet user without a balance, thus providing broader scope and acceptable reach. All in all, BeNFT offers users the best of DeFi and NTF efforts and takes their usage a few steps forward for greater efficiency.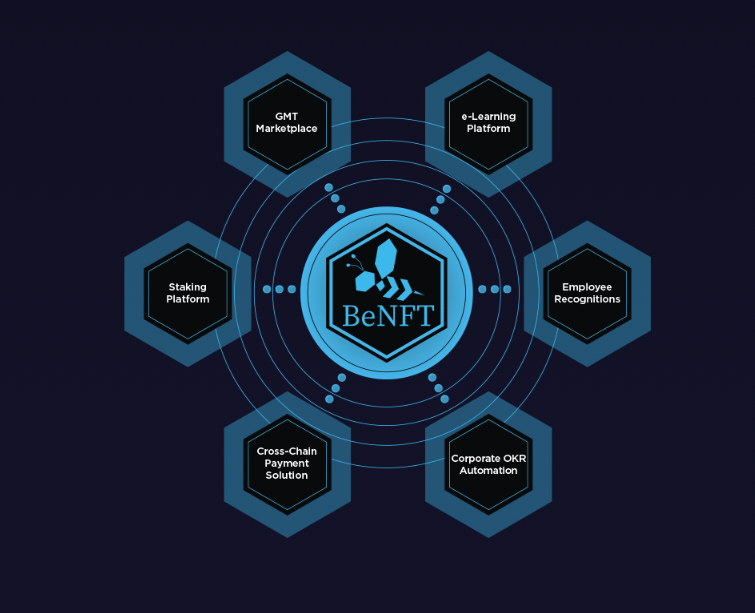 BeNFT, Reward Programs, and Employee Engagement 
Setting up reward programs for any organization has been challenging, often leaving differing opinions and discrepancies when choosing the best fit for its employees. Deciding who's the "Employee of the Month" can be hard due to nepotism, office politics, varying performance indicators, and numerous other factors. 
Difficulties in implementing an Employee Reward Program don't end there, as deciding on an appropriate reward can be equally tricky. To make matters easier, BeNFT has developed an automated solution that utilizes blockchain technology and visual arts, which aims to make administering rewards more straightforward and efficient. Using BeNFTs, organizations can now set up tailored programs within their workplace that recognize their employees' accomplishments.
BeNFT has taken the concept of rewarding people for their dedication and hard work to a new level. With the creation of NFTs, BeNFT can provide incentives that create long-lasting memories and become tangible reminders of accomplishments and milestones reached. Recipients who cash out can keep their rewards as physical mementoes instead of just logging them in a spreadsheet. 
BeNFT's mission to make incentives fun is successful in its ability to motivate users with unique rewards that will last forever.
Highlights
No Price Volatility on points associated with benefits programs 

– BeNFT users can trust that their rewards points don't experience price fluctuation and never lose intrinsic value, as they are safeguarded against any crypto price fluctuations. This ensures an enduring and dependable reward system for users to enjoy!

Beehive – Meta Wall of Fame where each user has all recognitions on walls, shareable to other and social media 

– Users can let their work and accomplishments be recognized on a digital wall of fame called Beehive. Users can showcase the awards and NFTs they have received and effortlessly share them with friends and family or even on social media; each user can access their virtual recognition for all to see!

The GMT Market: The GMT Market is the native marketplace for BeNFT Tokens. Users can unlock an entire universe of opportunities by swapping their $BeNFT Coins for other tokens. These tokens can then be utilized in various ways, from taking part in NFT raffles and donating to charities, all the way up to trading Solana-based Non Fungible Tokens (NFTs) – offering first-time crypto users access never before seen on any other platform!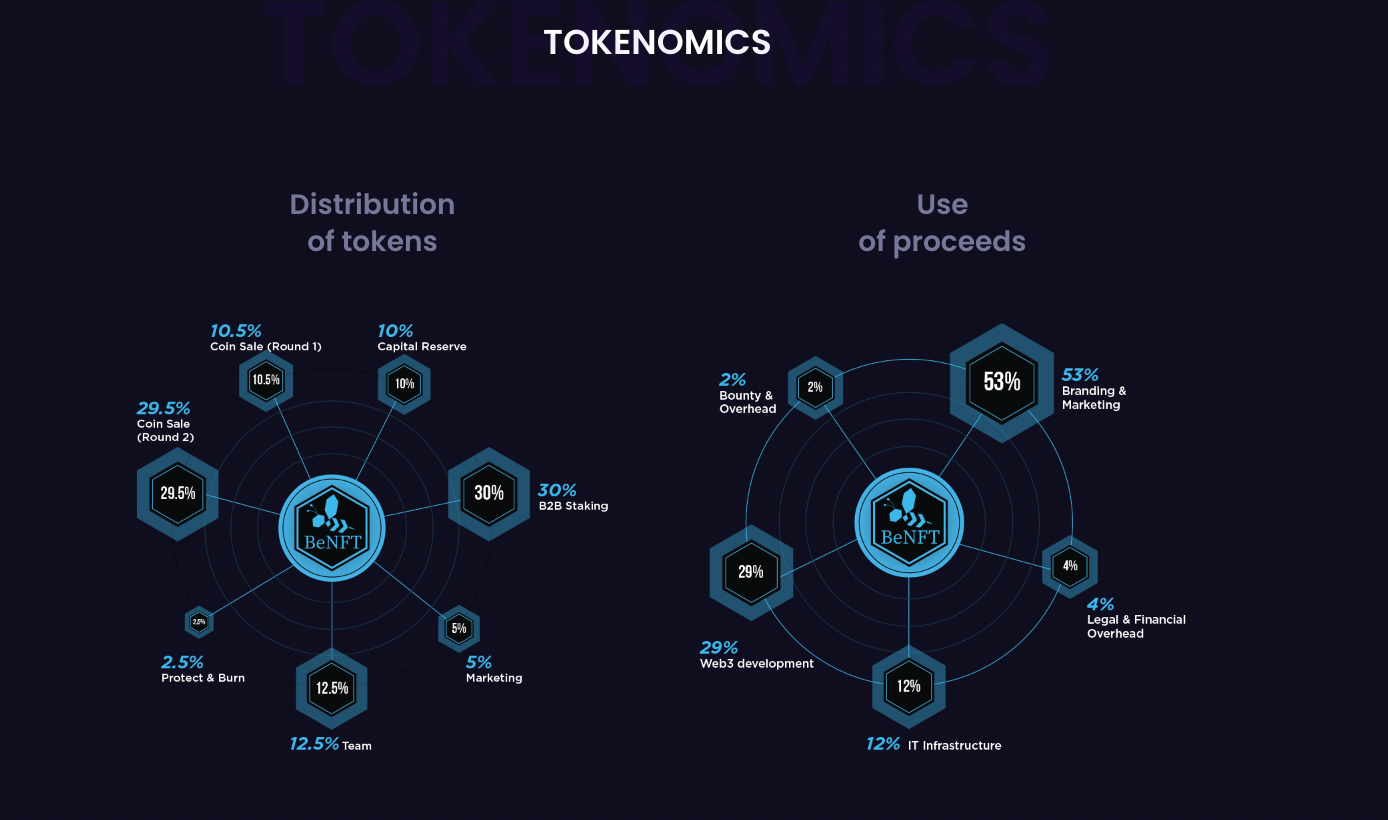 The $BeNFT Utility/NFT Token 
The BeNFT SPL contract (Solana Blockchain) offers users a unique and cost-effective way for first-time crypto users to join the NFT space. 
The $BeNFT Tokens feature several key attributes hard-coded into each token. The $BeNFT Utility/NFT token was designed with scalability in mind by leveraging the Solana network for fast transaction speeds without high fees – making it an ideal platform for creating unique digital assets of lasting value.
To ensure consistent availability of $BeNFT, 7 million tokens have been minted, and supply has been capped at that amount. Any withdrawals will result in burning existing tokens, with an equal quantity automatically created to replenish the total token count.
On November 29th, 2022, Coinstore proudly listed the $BeNFT coin. With only 10.5% of the total circulating supply released on its launch date (735,000 tokens), this is a unique opportunity to get in early and take advantage!
Overview
Name: BeNFT
Website: https://benft.solutions/
Whitelist: No
KYC: No
Token Type: SPL tokens, Solana Blockchain
More information on BeNFT is available on their website, accessible here. You can also join the Telegram group to stay informed of the project's latest developments.
Disclaimer: This Press Release was sponsored by BeNFT. ICO Hot List does not endorse or recommend participating in any initial coin offerings. ICO Hot List has received compensation from BeNFT to be featured in this article.