Overview
Name: Spaceium
Token ticker: SPM
Token Type: Quark Blockchain
Website: https://spaceium.io/index.html
Hard Cap: 4 300 000 EUR
KYC: NO
Country Restrictions: No
Sale Date: July 2nd 2021 – July 16th 2021
ICO Distribution:
(40,7%) Development
(10%) Finances
(13,6%) Marketing
(11,7%) Exchange Listings
(17%) Personnel
(10,2%) Other (Legal etc.)
Company purpose and problem-solving ideas
"Spaceium was founded on the belief that it is your human right to have control of your assets and use them however and wherever you'd like. We as a company believe that decentralization, honesty, transparency, and validation are the key to successfully providing and offering solutions that are beneficial to the creators and everyday users. The world is changing, and institutions, countries and even companies are researching developing their own digital currency/assets."
As mentioned in the Spaceium whitepaper, the company's mission is to "boost the global transition to blockchain technology and cryptocurrency.". The project has three main objectives. First, Spaceium aims to help people get full control of their assets, enabling users to access and send funds anywhere, anytime, and however, they like. Then the team intends to make it easier to implement and provide cost-effective solutions and more accessible for the users to use. Finally, Spaceium delivers solutions that are more beneficial for its users, intending to impact people's everyday lives positively.
Spaceium has recognized the challenges involved with the global implementation of the blockchain industry. Most of the projects are either costly, complex or lack security. To address those challenges, Spaceium will be offering solutions and products in the following sectors:
Payment solution

Payment network

Trading services

Financial Services

Digital Ownership of virtual and physical assets

Sale Services of virtual and physical products.
Highlights
Spaceium's blockchain uses a proof-of-stake algorithm called Quark. With proof of stake, participants must have a stake in the blockchain by owning SPM to select, verify and validate transactions on Spaceium's blockchain.

Windows, Mac OSX and Linux wallets are available on the Spaceium website. The wallets allow users to start using the SPM blockchain, sending, receiving SPM or staking SPMs or setting up a masternode.

The Spaceium blockchain has a max supply of 30,000,000 SPM and has a starting block reward of 25 SPM per block. There will be a 50% halving every 525,600 blocks (around 365 days) until there are no longer block rewards.
Token Usage
Each user who wishes to participate in the Spaceium decentralized blockchain can choose between Staking SPM (Proof of Stake) or running a dedicated eco-friendly masternode. 
Proof of Stake: In a Proof of Stake (PoS) system, the number of coins owned by a customer determines whether they can mine or validate a block transaction. Therefore, the more tokens a miner owns, the more mining power they have. As the SPM blockchain uses the Quark algorithm, the project rewards stakers with 15% of the block rewards. Using the SPM platform and the desktop wallet, users can start staking quickly. Another addition is that users receive SPM coins for supporting the blockchain and can also send cryptocurrencies without paying transaction fees as a benefit for their support to the network.
Masternode: Masternodes are full nodes that incentivize node operators to perform the blockchain's core consensus functions. In SPM, masternodes are incentivized with a share of block rewards since they cost money and effort to operate. Masternode count primarily determines the yield. Cryptocurrency masternodes can be used to earn "passive income" without running high-cost mining equipment. Spaceium Masternode creation requires locking in 2500 SPMs. A masternode can then either be hosted on a user's server or by a service provider. Masternode owners receive 85% of block rewards in return. 
Token Distribution
(40,7%)

 Development

(10%)

 Finances

(13,6%)

 Marketing 

(11,7%) 

Exchange Listings

(17%)

 Personnel

(10,2%) 

Other (Legal etc) 
Total supply: 2M SPM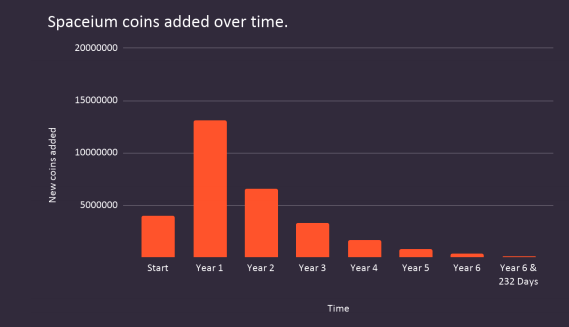 Team
Nils-Julius Byrkjeland – Founder & CEO/CTO

 – Has been in the Crypto Space since the age of 13 and set up his first business at the age of 14

Kåre Benjamin Byrkjeland – Co-founder & CMO/CPO – 

Benjamin is currently a professional athlete and investor in property, stocks and crypto. 

Isak Håkon Caldwell – Co-founder & CFO –

 Isak has been a successful property investor since 18 and is now the CEO of a successful carpentry company. 
Advantages
Block rewards allocated to Master Node operators, in addition to transaction fees

: The masternodes are accompanied with solid incentives for users to run those, which will benefit the network. The more nodes agree within a network, the more trustless and decentralized the system becomes. Additional rewards will help incentivize users to run a masternode and decrease the expected time to earn rewards.
Potential Drawbacks
Proof of stake downsides: 

PoS can cause issues with token distribution, as this kind of system enables whales, i.e. large crypto holders, to own a significant fraction of the supply. One could argue that the distribution problem solves itself over time, as the founders are interested in spending their wealth to support the coin.
This review was sponsored by Spaceium. ICO Hot List does not endorse or recommend participating in any initial coin offerings. ICO Hot List has received compensation from Spaceium to be featured in this article.