In the interest of ensuring secure and stable growth in anticipation of the launch of PulseChain, the energy-efficient, cheaper, faster, fee-burning Ethereum fork, Richard Heart recently announced the launch of PulseX sacrifice phase.
PulseX is the most liquid Automated Market Maker on PulseChain. The Sacrifice Phase is open from December 30th, 2021, up until February 25th, 2022. More than one billion (!) of USD has been sacrificed for the right of human assembly.
PulseX Presentation
PulseX is a secure and trustless Decentralized Exchange (DEX) run on the PulseChain network. In this DEX, users can exchange their ERC20 tokens for PRC20 ones without needing a third party or a counterparty risk. 
PulseX utilizes an entirely different architecture than centralized exchanges. Centralized exchanges allow you to trade tokens for one another, but the actual cryptocurrency is stored in a wallet owned by the centralized exchange. This means that if someone were to hack into the centralized exchange wallet and steal tokens, users would not retrieve them.
A decentralized exchange provides you with an actual wallet that holds your tokens and allows users to trade them from their own wallet, secured by a private key.
The Most Liquid DEX on Pulsechain
PulseX is PulseChain's network's first DEX, enabling users to exchange PRC20s tokens. The exchange uses both automated market makers and liquidity pools to ensure that traders always have adequate liquidity. AMMs are used to provide liquidity on the DEX by automatically selling or buying PRC20's for the best possible price. AMMs increase the number of buyers and sellers in the marketplace by creating trustless trades. Liquidity Providers are rewarded for providing liquidity through fees charged by exchanges and fees set for liquidity through Liquidity Pools.
The PulseX exchange will be open-source and available to everyone who wants to make use of it. It has been written as a Smart Contract using Solidity on the Ethereum network, ensuring a secure and transparent environment. The PulseX smart contract will be able to handle transactions between Pulse Tokens (PRC20) and other ERC20-compatible tokens automatically on the blockchain.
Liquidity Pairs and the World's Largest Yield Farm 
Cryptocurrencies have the highest yields in the world, far exceeding those of other asset classes. This is not just a one-off effect but an ongoing trend due to their inherent nature of being scarce digital assets. PulseX is a burning-fee decentralized exchange that works as a liquidity pool where users can earn yield if they hold PRC20 tokens. PulseX will be the first DEX ever in crypto history where people got half of their Liquidity Position for free. All the fees are paid by traders, who want to trade with other assets than ETH. If a user is holding PLS or PRC20s, they can earn substantial income by staking them to Liquidity Pairs. The interest rates depend on market conditions and the number of coins that are available to be loaned out. 
On PulseX, users can trade all of their ERC20 Tokens for PRC20 tokens. All trades on PulseX are done by Smart Contracts, meaning there is no middleman that manages money or get in the way of the trade.
PulseX Also gives on-chain order book for PRC20 tokens. This means users can see every trade that happens on the blockchain, who it happened between and what the price was. We have also baked in a portfolio tracker, so you can see the portfolio value of any address at a glance.
The PLSX Token
PLSX is a utility token and not a security. PLSX has the sole purpose of being the medium of exchange on PulseX, and it will be used for:
Trading and transferring tokens on the decentralized platform

Fees for trading on PulseX

Rewards for liquidity providers
Pulse Token is the utility token of PulseX, a DEX based on the PulseChain network. PLSX is not a security and thus it has no value outside of the platform. 
The Pulse Token will also act as a reward mechanism to encourage participation in the network. For example, for users to buy or sell any cryptocurrency on the PulseChain web, you will require to deposit Ethereum into your account first before you can trade $PLS for ETH or vice versa. As part of the security protocols, users must hold their cryptocurrency in their wallets (Metamask for instance).
Token Supply
The supply of PLSX will be determined by the total USD value that will be sacrificed during the sacrifice phase. All PLSX will be minted to Sacrificers. Only those that contribute to the supply of PLSX will be eligible to receive PLSX. The total amount of cryptocurrency sacrificed to the address on https://pulsex.info/ will determine the total supply of PLSX. 
PulseX is a decentralized peer-to-peer platform for buying and selling cryptocurrency. There is no central server or authority in PulseX. Users generate their keys; no one else has keys to give them. 
About the PulseX Sacrifice
If you sacrifice your crypto, you do not purchase PLSX. It is a political statement that you give your crypto away. After taking that step, you are no longer in possession of the cryptocurrency. Don't expect to profit from the work of others, and never expect others to earn you money. After you sacrificed it, the person who owns your crypto doesn't serve you.
Whatever value you sacrificed, the time-weighted average price (over 30 min) when you transferred the funds will be used to calculate PLSX points. Those points have a volume bonus applied between 1-2.5x. Since January 10th, the Sacrifice Rate has been increased by 5% every 24h at midnight UTC. On February 25th the Rate will be $.9.91 / 10,000 Points.
NOTE: Bonuses don't take anyone else's database values. They simply add or subtract more or less database values based on the system state.
PLSX will be issued with no intrinsic value, but the coins will have value after users receive them. The price of coins will be discovered quickly, but nobody knows at what price they will trade initially.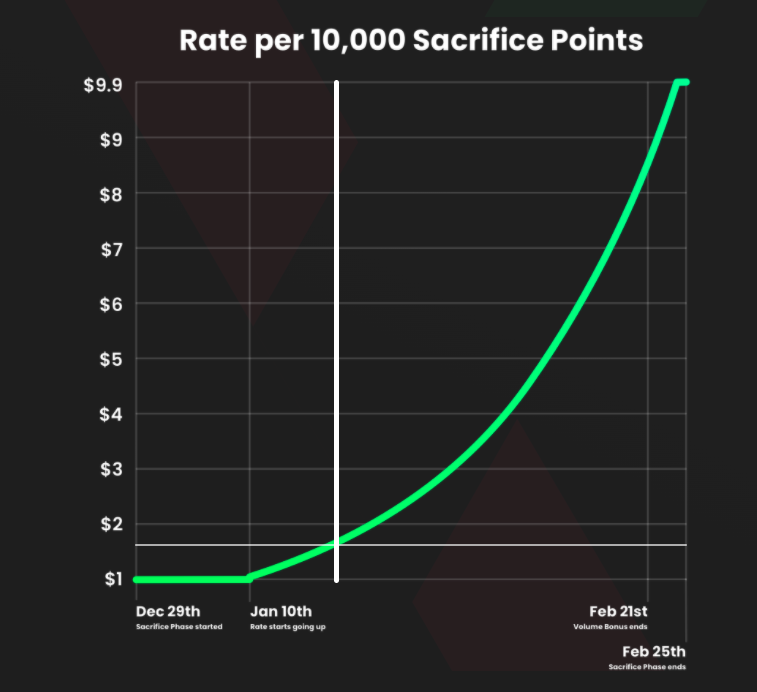 The Team 
Richard Heart – Founder:  Richard Heart is an entrepreneur, author, YouTuber, and philanthropist. He founded Hex, a high-interest blockchain certificate of deposit and PulseChain network. In 2021, Heart has raised over $27 million for medical research through the PulseChain network.
Notable Projects and Upcoming Developments
Pulsechain : PulseChain is a Complete Fork of the Ethereum Network. Meaning every coin, wallet ever existed on the Ethereum network, will be copied and available on PulseChain. Every ETH token will be converted to PLS on a 1:1 basis.
PulseChain is dedicated to becoming the base layer protocol of the Internet of Value (IoV). IoV is an emerging economic paradigm that seeks to enable the direct exchange of value between any two entities on earth without requiring a trusted third party in the middle. PulseChain will achieve this by offering a decentralized way to transact with anyone else without going through a financial intermediary.
PulseChain has all the features that make Ethereum great such as Smart Contracts, DApps ERC20 Tokens and more. PulseChain has faster transaction times, and once decentralized governance is released, and masternodes are implemented, it will become even more secure than Ethereum.
Overview
Name: 

PulseX

Public Sale Start Date

: December 30th, 2021

Public Sale End Date

: February 25th, 2022

Token ticker: 

PLSX

Token Type: 

PRC20

Website: https://pulsex.com/
KYC

: No
More information on PulseX is available here. Follow @PulseXcom on Twitter, or join the Telegram group to stay informed of the project's latest developments.