Legacy Network is excited to announce the launch of its Initial Coin Offering (ICO), live at ico.legacynetwork.io. Accompanying this public sale is the Legacy App, a revolutionary platform powered by Artificial Intelligence (AI) that will change the face of Education forever.
Legacy Network's platform provides individuals with a comprehensive personal development experience. They are creating a unique learning environment with the help of an unique Artificial Intelligence. The leg will help people achieve their full potential, both personally and professionally.
What is Legacy Network?
Legacy Network dedicates itself to creating a revolutionary digital ecosystem that empowers and educates its users. They aim to offer an interactive game-based journey that challenges individuals while enhancing their mental clarity, awareness, and overall well-being. The Legacy app platform provides users with the tools and knowledge, and learning processes to boost their productivity, mindset and self-confidence and achieve their full potential. 
Legacy Network's mission is to transform the education landscape and provide individuals worldwide with a comprehensive personal development experience. The Team behind the project believes that concepts such as Education, Self-Improvement and Personal Development should be accessible to everyone, regardless of their background or financial situation. That's why the team has chosen to launch an Initial Coin Offering, allowing individuals worldwide to participate in their vision of a better future.
The Legacy suite of Products
The Legacy App

– This app is a personal growth academy that takes a fresh approach to learning. Legacy App combines structured modules, gamification elements, and social functions to motivate users to improve their lives and have fun while learning. 

With Legacy, users can choose from various modules that equip them with knowledge and habits to enhance every aspect of their lives, including mental and physical health, relationships, finances, and more. The app also features a gamified reward system, ensuring a personalized learning experience and tailored to each user's unique journey.
The Legacy Wallet – The native wallet of the Legacy Network is an all-in-one solution for managing cryptocurrency assets across multiple blockchains. Among the different services offered by the wallet, users can also access a staking feature for LGCT tokens.

Staking LGCT tokens will allow token holders to earn rewards for holding the native Legacy token ($LGCT). Additionally, users participating in private or public sales will also be able to claim vesting tokens easily.

Finally, the Legacy Wallet will allow users to bridge Legacy Tokens across several blockchains, such as the Ethereum, Binance Smartchain, Polygon and VeChain blockchains. Enjoy the convenience and security of the Legacy Wallet, the all-in-one solution for managing your crypto assets.
Legacy NFTs – A series of NFTs that can be used as avatars for users enrolled in the Legacy App educational program. As the user progresses through their training plan, they can equip their avatar with cosmetic NFTs and receive them as rewards. This innovative system incentivizes progression and personalizes the learning experience. Users can showcase their achievements and own a unique piece of digital art that can be collected and traded by using NFTs as rewards.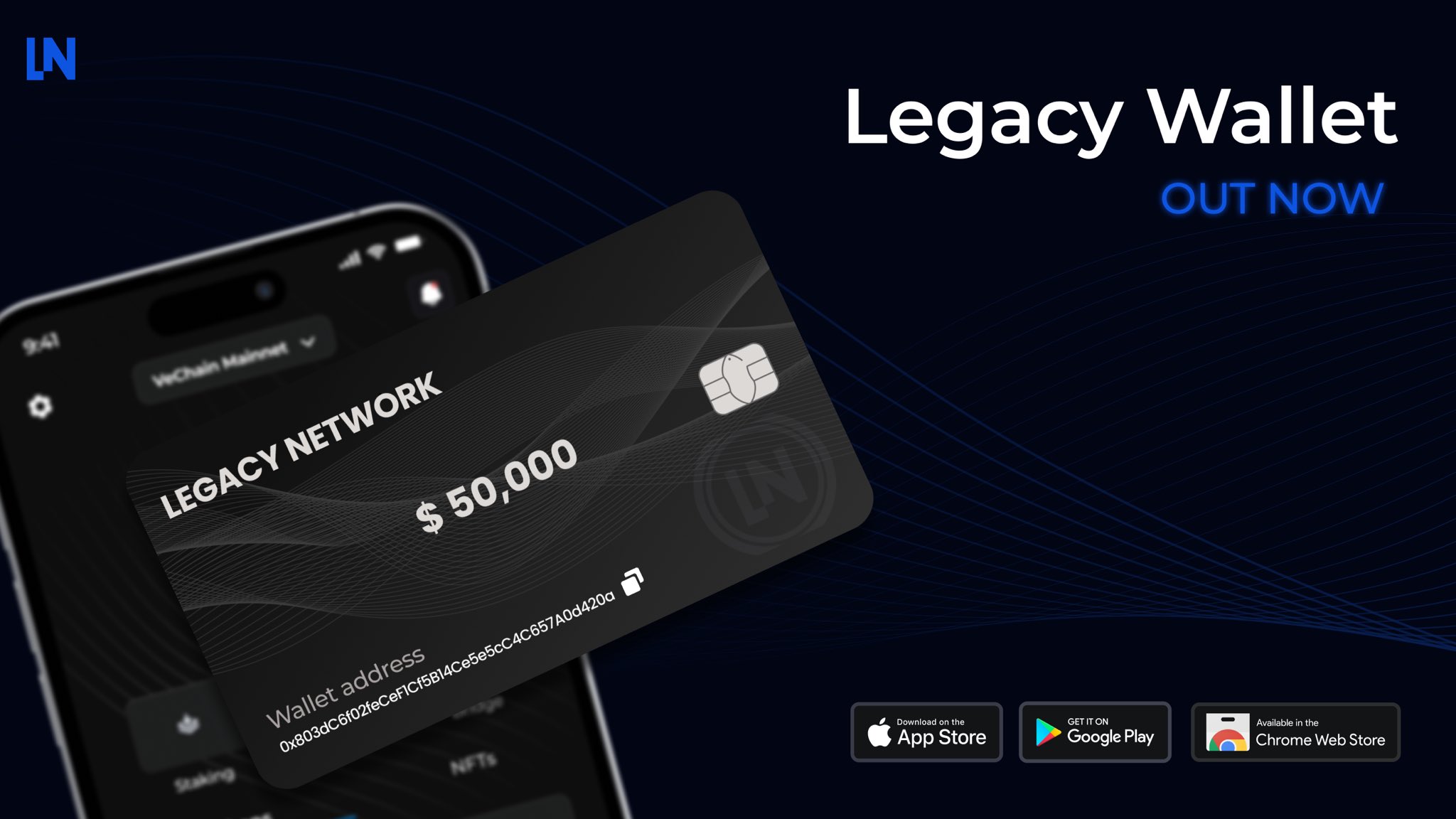 Winning the Game of Life
The Legacy app has a central feature called the Game of Life Area, which provides users with a structured and engaging learning journey. Legacy App users can select modules that suit their specific needs and gradually build their knowledge step-by-step on various topics. Each module contains several Chapters and Lessons, each focusing on a specific concept. To make the content appealing, each lesson consists of text, visual elements, and an interactive practical task that the user must complete, the same as a student. 
At the end of each module, users take a set of questions to ensure they understand the course's key takeaways. The repeated format across all lessons solidifies the user's understanding and helps them retain the information presented in the module. As the team believes that the most effective way to learn a concept is to practice it repeatedly until it becomes second nature. Upon passing a class, users receive rewards like XP and progress to higher chapters within the module. The entire learning journey is gamified and supported by AI, creating an engaging experience. As users progress, they level up their in-game character, which motivates them to keep learning. The goal is to make the learning experience enjoyable and effective.
An AI-Powered App to help you become the best version of yourself
To assist the users of the Legacy App and to direct them to the most optimized learning path, Legacy has put forward an Artificial intelligence (AI). This AI has the potential to revolutionize the way we learn by customizing the learning experience to suit the needs of each individual.
By analyzing a student's behaviours and responses, the Legacy AI can tailor a learning program on the app to suit the users' unique learning style. Based on user interaction with the App, the AI adapts to the difficulty level of the Lesson, providing personalized feedback and support and identifying areas where the student may need extra help. 
The Legacy AI constantly monitors the student's progress behind the curtains and adjusts the learning path accordingly. This ensures that the student is always challenged but not overwhelmed, leading to a more efficient and effective learning experience. This personalized approach to learning can potentially increase engagement, motivation, and success rates, making Legacy AI a valuable tool for Education.
The $LGCT Token
Legacy Token ($LGCT) is a versatile utility and payment token that empowers users to access the full potential of the Legacy Network ecosystem. $LGCT will be used as the primary payment method for subscriptions and purchases within the ecosystem's Legacy App and other related products. At its launch in June, the $LGCT token will be able to establish automated processes, such as redistributions, independently of third-party providers. This means users can enjoy a more efficient, secure, and cost-effective payment system when using $LGCT.
By staking your Legacy Token (LGCT), users can unlock additional benefits, including staking rewards, airdrops, whitelist spots, discounts, and exclusive access to Legacy's services. With a maximum supply of 720,000,000 tokens, $LGCT is the driving force behind the Legacy economy across all their products.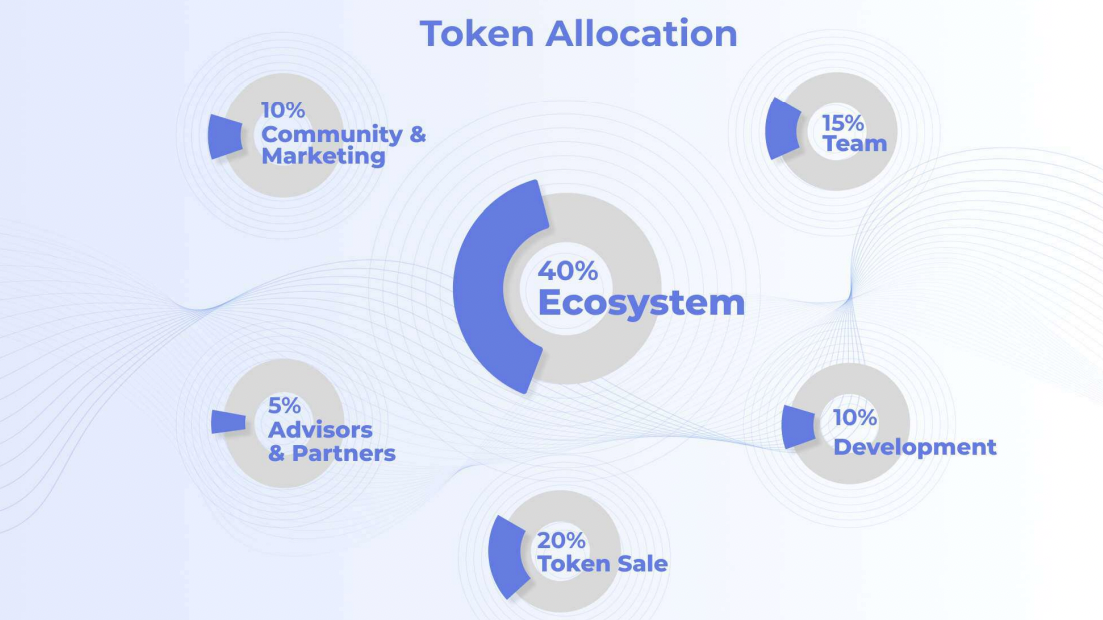 Public Sale is open till June 1st!
In conclusion, The Legacy App is an innovative gamified learning app that has the potential to revolutionize the way we learn. The Legacy App follows tried and true cognitive concepts to help users develop discipline and practice the concepts they come across. The true impact of a learning program lies not in the material taught, but in the positive change it brings to a student's knowledge, skills, and behavior.
With its ability to improve all aspects of its users' personal and professional lives, the Legacy App is a must-have tool for anyone looking to enhance their knowledge and skills. Don't miss out on this opportunity to support the project and participate in the ongoing ICO, open to all until June 1st. Join us on this exciting journey towards a brighter future of learning and personal growth!
Overview
Name: Legacy Network
Website: https://www.legacynetwork.io/
Whitelist: No
KYC: Yes
Sale Start Date: April 12th, 2023
Sale End Date: June 1st, 2023
More information on Legacy Network is available in their website, accessible here. You can also join the Telegram group to stay informed of the project's latest developments.
Disclaimer: This Press Release was sponsored by Legacy Network. ICO Hot List does not endorse or recommend participating in any initial coin offerings. ICO Hot List has received compensation from Legacy Network to be featured in this article.
Source: Auto Draft