Crypto enthusiasts, rejoice! The highly-anticipated public funding rounds for Brickken are now open to everyone, offering a once-in-a-lifetime opportunity to join the ranks of over 5,000 verified participants! Support Brickken's groundbreaking project to bring about mass adoption of decentralized finance today.
Brickken is a blockchain platform for tokenization that aims to standardize and streamline the global process for asset tokenization and tokenization services. With a vision of a decentralized and tokenized world, Brickken's platform seeks to facilitate the tokenization process for projects and users worldwide.
What Is Brickken?
Brickken's mission is to assist asset owners worldwide in adopting a decentralized fundraising model. Their platform utilizes blockchain-based technology with the aim of offering individuals and businesses the opportunity to generate passive revenue streams. By providing the necessary tools to tokenize assets, Brickken is at the forefront of a global movement that seeks to revolutionize the way people invest, transact, and own assets, ultimately driving greater efficiency, accessibility, and transparency in the global financial ecosystem.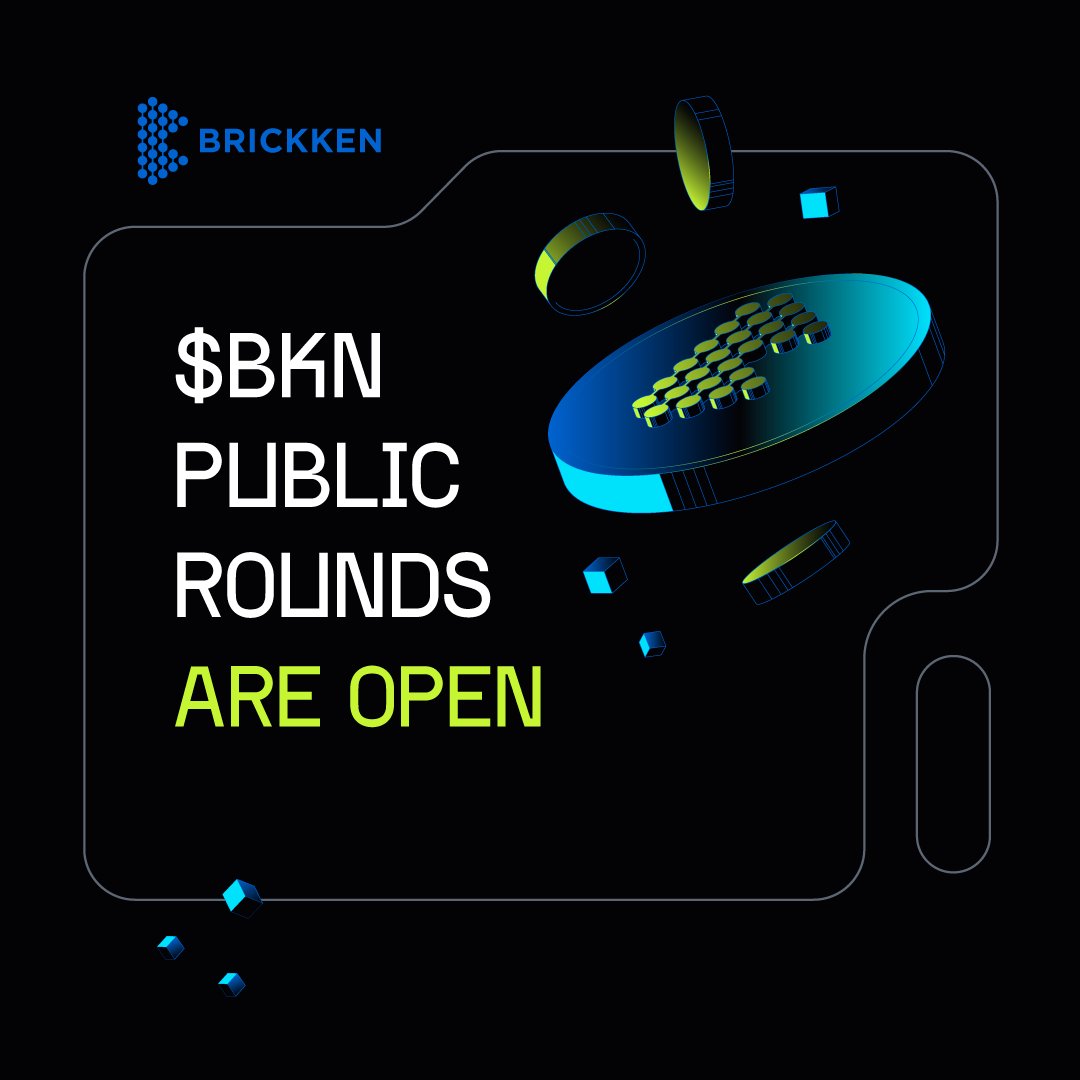 How Can Brickken Make Digital Assets More Accessible?
The Token Suite offered by Brickken has the potential to democratize access to asset opportunities, which were previously limited to only a select few, and provide a chance for a broader range of investors to participate in exclusive markets. This increased accessibility can ultimately foster significant innovation and growth in various sectors of the economy. By issuing tokens representing fractional ownership of assets, Brickken's Token Suite allows retail clients to participate in sales that would otherwise be beyond their reach.
What Are The Benefits Of Using Brickken's Token Suite? 
Asset tokenization provides several advantages to both asset owners and investors. By digitizing the ownership of an asset through the issuance of tokens, the process can significantly enhance efficiency, accessibility, and transparency in asset ownership. Additionally, tokenization can lead to reduced costs and enhanced security measures that can provide peace of mind for all parties involved in the transaction.
Increased liquidity and Transparency

: Brickken's Token Suite allows for fractional ownership of assets, making them more accessible to a larger crowd. As more participants can access and purchase these assets, this can increase liquidity for traditionally illiquid assets such as real estate, art, or private equity. Additionally, the Brickken platform provides a transparent and immutable record of ownership and transactions on the blockchain, allowing for greater accountability and trust.


Legal and regulatory compliance

: With Brickken's Token Suite, asset owners can ensure that their assets comply with all relevant legal and regulatory requirements. The Token Suite provides built-in Know Your Customer (KYC) and Anti-Money Laundering (AML) tools, which enable asset owners to conduct token sales that are both compliant and user-friendly. These features ensure that all necessary approvals and licenses are in place while enhancing the tokenization process's security and transparency. As a result, asset owners and Token sale participants can rest assured that their transactions are conducted in a safe and legally compliant manner.

Support of Token Experts

: Partnering with Brickken for a token sale offers additional benefits beyond the platform's tokenization capabilities. The platform's network enables its users to connect with verified experts in the token industry, allowing them to find the right partners and advisors to support their projects. This access to a network of experienced professionals can provide valuable insights and guidance, ultimately leading to greater success in the token sale and beyond.

The $BKN Token
$BKN is a utility token that serves as the backbone of the Brickken platform. Its primary functions are facilitating transactions, incentivizing user participation, and providing governance rights to Token holders. The $BKN Token can be used to pay transaction fees, and users can earn $BKN as rewards for contributing to the network. Additionally, $BKN Token holders can vote on essential platform decisions. 
Payment: BKN Tokens can be used to pay transaction fees, such as Token issuance or platform usage fees.
Rewards: Users who participate in the Brickken platform can earn rewards through BKN Tokens. This incentivizes users to contribute to the network and helps to promote its growth and development.
Governance: BKN Token holders have voting rights, which enable them to participate in the decision-making processes related to the development and operation of the platform.
Discounts: Users holding a certain amount of BKN Tokens can be eligible for discounts on transactions or other platform fees.
Finally, users holding a certain amount of BKN Tokens can be eligible for discounts on transactions and other platform fees. Overall, the BKN Token is an essential element of the Brickken platform, making it easy for users to participate, transact, and actively participate in its ongoing development and growth.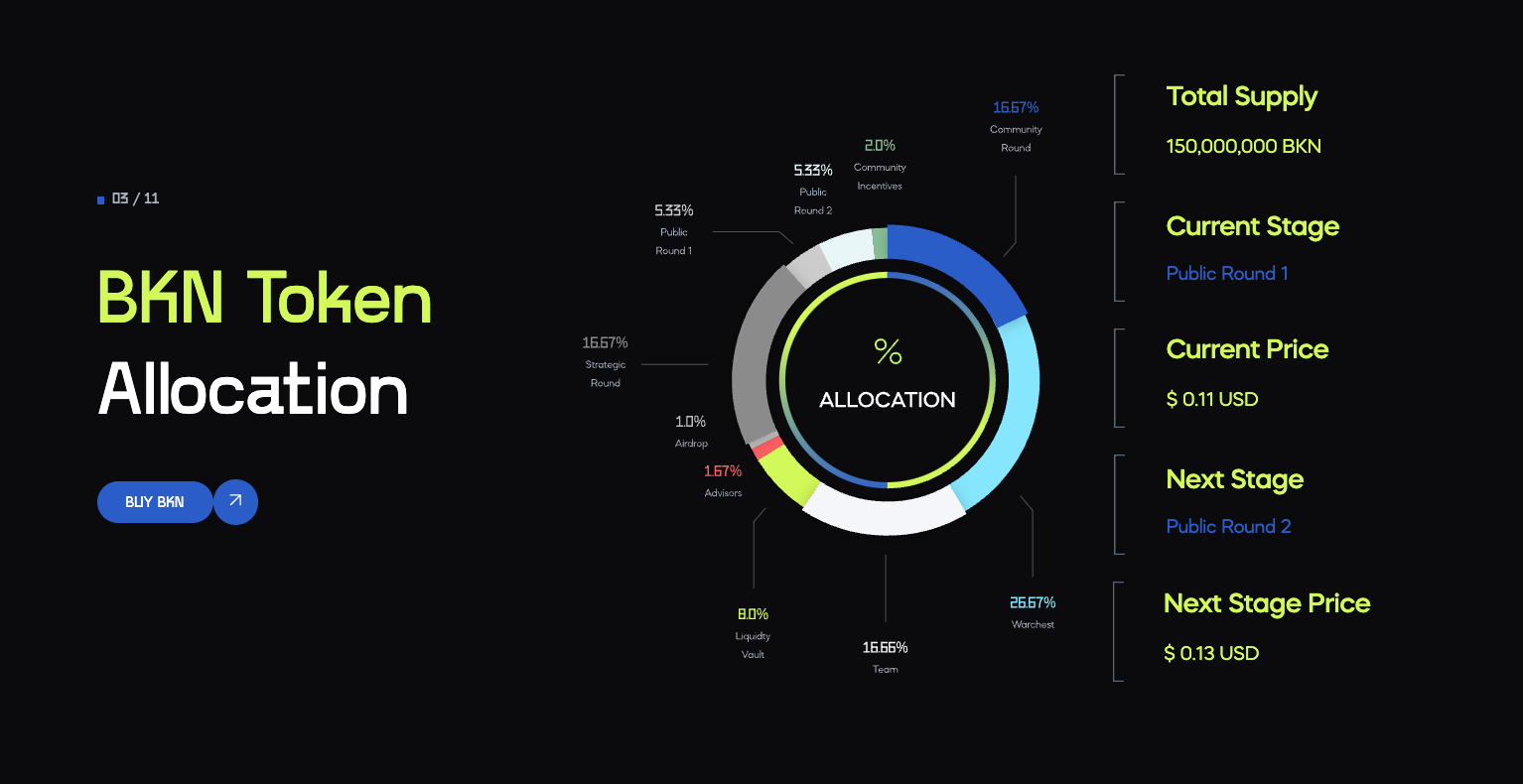 The Brickken Public Sale
Brickken has opened its public funding rounds to all cryptocurrency enthusiasts. Participants can register for the sale on Brickken's registration portal and join over 5,000 registered participants.
The BKN token is currently available for purchase at $0.11, with projected growth to $0.13. This presents a time-sensitive opportunity for investors to acquire their portion of the token sale and potentially benefit from Brickken's tokenization platform. By investing in BKN tokens, users can gain access to new and exciting opportunities in asset ownership and sales that were previously unavailable or limited to a select few. As Brickken continues to pave the way for decentralized finance, its Token Suite platform is set to revolutionize the global financial ecosystem and offer new avenues for growth and success to its users.
Brickken offers a referral program where users can earn 5% extra BKN tokens for themselves and their friends. By referring a friend to Brickken's platform, the user and their friend can benefit from this additional token bonus. This presents an opportunity for users to potentially increase their earnings and expand their network on the platform.

Conclusion
In conclusion, Brickken's tokenization platform has the potential to revolutionize the way we approach ownership and the acquisition of digital assets. With its cutting-edge technology and commitment to democratizing access to exclusive markets, Brickken is changing the game for investors everywhere. The platform's decentralized approach to asset tokenization offers a more transparent, secure, and accessible way to access digital assets while reducing costs and increasing efficiency. By leveraging the power of blockchain technology, Brickken is driving innovation and growth in the global financial ecosystem, creating an exciting opportunity for investors to get in on the ground floor of a game-changing technology. 
Get ready to join the future of finance with Brickken!

Overview
Name: Brickken
Website: https://www.brickken.com/
Whitelist: Yes
KYC: Yes
Token Type: ERC 20
More information on Brickken is available on their website, accessible here. You can also join the Telegram group to stay informed of the project's latest developments.
Disclaimer: This Press Release was sponsored by Brickken. ICO Hot List does not endorse or recommend participating in any initial coin offerings. ICO Hot List has received compensation from Brickken to be featured in this article.
Source: Auto Draft