Overview
Name: Rewards
Token ticker: $RWD
Token Type: Cross-Chain ERC20<>BEP20
Website: https://mycryptocheckout.com/rwd/
Hard Cap: 3,100,000
KYC: NO
Country Restrictions: Cuba, Crimea region of Ukraine, Democratic People's Republic of Korea, Iran, or Syria
Presale: June 15th 2021 – June 19th 2021
Sale Date: June 22nd 2021 – June 26th 2021
Token Distribution: (35%) Crowdsale, (15%) Presale, (15%) Team, (10%) Ecosystem & Marketing, (5%) Bounties, (10%) Exchange Liquidity
(10%) MCC Cashback Program
Company purpose and problem-solving ideas
Rewards is transforming customer rewards in the way they are distributed, traded, stored, and managed. Blockchain technology will unify brands and customers worldwide through a rewards network.
This project is backed by the team operating MyCryptoCheckout, a WordPress plugin for crypto payments. The two Co-Founders are now building a new way for companies to set up rewards programs and earn customer loyalty. Most companies nowadays realize that customer loyalty is a valuable asset and that rewards can help create it. When properly planned and implemented, rewards programs can help companies turn first- or second-year customers into tenth- and twenty-year customers.
The Rewards blockchain helps companies to find ways to share value with their customers. The Rewards app will also focus on the users' side by developing a system through which customers are continually educated about the rewards of the loyalty programs of their favourite vendors, thus keeping them motivated to earn them.
Highlights
Soft Cap for the project has been surpassed, and the Pre-Sale is oversubscribed. As of the 21st of June more than 235K USD has been raised.
$RWD can be redeemed at accepting stores, exchanged for crypto or fiat, stored for later, or sent to friends and family.
All customers of the 2000+ webshops using the MyCryptoCheckout API are automatically eligible to the MyCryptoCheckout Cashback Rewards Program.
Token Usage
The Rewards App's primary use is to gather all loyalty rewards in a single digital wallet. The Rewards App enables users to benefit from greater visibility, ownership and flexibility over their rewards.
Tokens based on $RWD can be used across multiple blockchains and customer rewards programs.
The $RWD tokens can be redeemed at accepting stores, exchanged for crypto or fiat, stored for later, or sent to friends and family.
$RWD will be used in the MyCryptoCheckout Cashback Rewards Program. The team will set up Marketing and outreach programs to onboard additional companies and users.
Token Distribution
(35%) Crowdsale
(15%) Presale
(15%) Team
(10%) Ecosystem & Marketing
(5%) Bounties
(10%) Exchange Liquidity
(10%) MCC Cashback Program
Total supply: 500M $RWD Tokens
Vesting Periods
Only for the team: At launch, the team is expecting to release 85% of the total token supply (425MM RWD). The share of the team, which represents 15% of the total token supply, is in a vesting timelock, and a third of the tokens will be released each year.
No vesting period for Crowdsale and Presale participants, Ecosystem & Marketing, Bounties, Exchange Liquidity and MCC Cashback Program.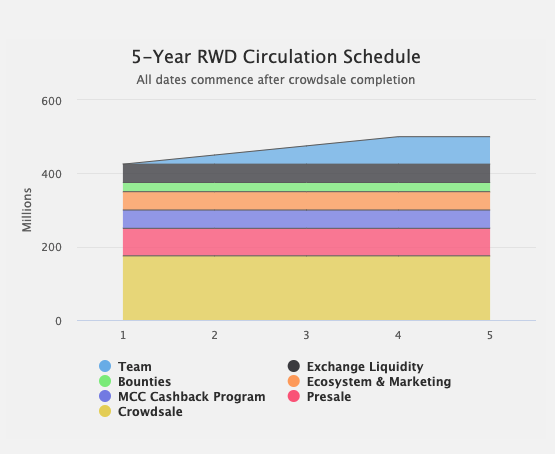 Team

Jesse Sneider – Co-Founder Developer: Jesse oversees the design and UI development of MyCryptoCheckout. For over 10+ years, he has published and contributed to numerous open-source projects over the years.
Edward Plainview – Co-Founder Developer: Edward focuses on the technical operations for the MyCryptoCheckout plugin. He has spent decades coding solutions for himself, businesses, schools, and governmental organizations. He has also published and contributed to many open-source plugins and libraries.
Notable partnerships
The Rewards blockchain and app can benefit from MyCryptoCheckout existing network. MyCryptoCheckout is a Cryptocurrency Payment Gateway WordPress plugin. The MCC plugin enables websites to display a checkout page as well as receiving payments and donations in more than 130+ Cryptocurrencies. The plugin is also compatible with TOR browsers and supports peer to peer payments.
Currently, the MCC plugin is active in more than 2000+ webshops. The team is leveraging the established customer base of the MCC plugin to ramp up the adoption of the Rewards App and Blockchain.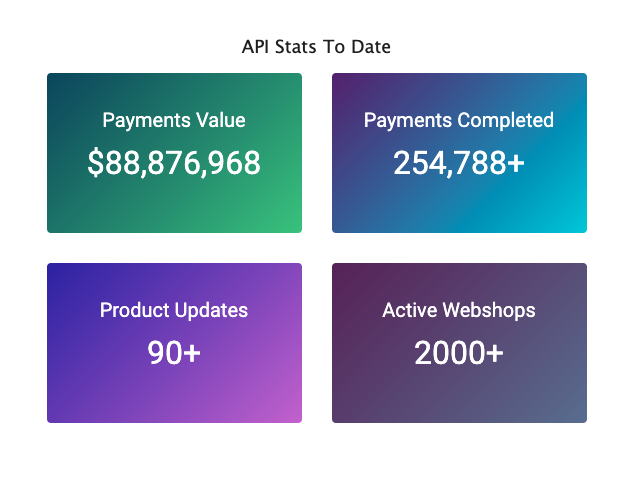 Advantages
Rewards programs are becoming more relevant: Customer reward programs have become an expected element of consumer experience. Businesses have expanded loyalty rewards programs to include social and behavioural actions to boost ROI and retain consumers. It now makes sense that brands are embracing cryptocurrencies as part of their rewards programs. It can be also noted that several credit cards are also offering cryptocurrencies as a reward for purchases, instead of miles or cashback.
Relevant experience in the field: The team has operated in the cryptocurrency industry for several years with the MCC plugin-in. MyCryptoCheckout was the first peer-to-peer crypto gateway available in the WordPress Plugin Repository in 2018. This experience, coupled with synergies with the MCC (such as the Rewards Cashbacks initiative) is positioning the team very well to deliver an app that can be adopted for crypto rewards.
Potential Drawbacks
The Rewards project is still in its infancy: The Rewards Program mobile apps, desktop programs, and web-based software are planned to be launched by Q4 2021.
Partnerships will be key for the success of the App: The team will also need to secure partnerships with Tier 1 brands. There might already be some brands open to that idea: back in 2018 Burger King Russia did engage in a Crypto Currency reward initiative. The Russian branch has launched a blockchain platform that allowed customers to exchange tokens that can be used across their stores, while they can also trade and transfer the coins online, like any other cryptocurrency. There might be other major brands open to a similar kind of reward initiative.

This review was sponsored by MyCryptoCheckout. ICO Hot List does not endorse or recommend participating in any initial coin offerings. ICO Hot List has received compensation from MyCryptoCheckout to be featured in this article.