Kryxivia is a new blockchain-based MMORPG that thrives by giving players actual ownership of their in-game assets. 
Several cryptocurrencies are rapidly overlapping with video games. Games that are "play-to-earn" could lead to a whole new generation of gaming experiences with real-world economies and new incentives for players. Thus, traditional business models in the game industry may be radically altered. If this concept takes off, it could form a foundation for the sought-after metaverse that many social media and gaming companies now seem bent on creating.
Following the launch of KXA's first IDO, the Kryvixia team is announcing the latest development of their project.
KXA IDO on Enjinstarter
The Initial Dex Offering for the KXA token is now live on Enjinstarter's platform. The IDO price is $0.015 per KXA. The initial Market Cap is at 301,875 USD, and the targeted raise is $150,000. The KXA token is on the Binance (BSC) network. 
Kryxivia Guaranteed Allocation Pool (GAP) summary:
White small square Universe (min 25,001 EJS): $16.50 to $80.48

White small square Metaverse (min 100,001 EJS): $82.50 to $376.59

White small square Multiverse (min 500,001 EJS): $465.89 to $2,211.21
The world of Kryxivia
Kryxivia is a new blockchain-based MMORPG that aims to give players actual ownership of their in-game assets. Kryxivia is a fantasy 3D MMORPG game directly available on the kryxivia.io website. This game features a whole ecosystem awaiting new adventurous players to collect Kryxit. Players can export their dropped Kryxit in the city NPC to NFT on any wallet. By doing so, players are allowed to trade, speculate on their KXS token / Ethereum values and share them by displaying them on NFT marketplaces. A visit to that NPC will trigger a blockchain transfer to any specified wallet to transfer the NFT.
Kryxivia immerses players in a world where a mine containing artefacts of an ancient civilization promises power and influence to whoever finds them. But those artefacts offer more than in-game buffs and power-ups, and they – along with every other asset in the game – are NFTs. That means players can buy, sell, and trade them at will, feeding a vibrant in-game economy.
The game promises players to earn crypto-currency and unique NFTs while having a fun and cooperative experience with their friends.
Within the game, users can build their character, fight in dungeons against bosses, stake their currency in the bank, loot from farming special items, and cast spells from magical gems named Kryxit linked to items for accessibility.
Starting the game

– Kryxivia is an online MMORPG game working with any compatible modern browsers, on any computer with a minimum required GPU. To authenticate and log in to the game, users must have a Metamask based wallet switched to the Binance network.

Running on the Unity game engine

 – The Kryxivia game client is developed and maintained with the Unity game engine. The client is launched through the Kryxivia website at kryxivia.io using the WebGL technology with a low-polygon design style to assure a scalable online browser game.

NFTs as rewards for playing the game

 – Players can export their dropped Kryxit to NFT on any wallet in the city NPC. By doing so, players are allowed to trade, speculate on their KXS token / Ethereum values and share them by displaying them on NFT marketplaces. A visit to that NPC will trigger a blockchain transfer to any specified wallet to transfer the NFT.
The KXA and KXS Tokens
To support the in-game economy, Kryxivia relies on two native tokens available on the Binance Smart Chain. 
Kryxivia Coin Token (KXA) facilitates the on-chain payments for game items like starter packs and special NFT sales. It's also the token used for players to purchase the in-game currency, called the Kryxivia Shard Coin (KXS).
Players use KXS to purchase items in the game world. Players can use KXS to upgrade their artefacts or to buy potions. Or, they can sacrifice KXS to link their articles to Kryxit gems, which power their magical properties. And eventually, players will also have the ability to stake their KXS at the in-game bank, earning solid returns for their character.
The NFT system plays a significant role in the game's economy since players can spend their KXS on upgrading their items. When they do, the value of those items increases, allowing players to profit from them when they sell them in the game's marketplace. By selling their coveted items for KXA, players can leverage their hard work and rare items into real money – turning their games into a source of income.
Token Distribution
KXA – Token Distribution:
(3%) 7,500,000 KXA – 

Server network hosting, game client and server engine costs

(5%) 12,500,000 KXA 

Marketing, Adoption increase and incentive to enlarge project audience

(2%) 5,000,000 KXA

 

In-Game events rewards, special farming and NFT rewards.

(1.5%) 3,750,000 KXA 

Staking funds for Bank Systems and Net APY rewards for players 

(12%) 30,000,000 KXA 

Development team payroll

(20%) 50,000,000 KXA 

Private Token Presale round

(20%) 50,000,000 KXA 

Public Token Sale for the game Bêta release on Unicrypt Protocol 

(15%) 37,500,000 KXA 

Ecosystem funds for extra-operations

(21.5%) 53,750,000 KXA 

Reserve treasury funds
Total Supply: 250,000,000 KXA. It is important to note that KXA is not mintable.
KXS – Supply & purpose
The Kryxit Shard coin (KXS) is the online, in-game currency that players will use to buy and trade in the Kryxivia world. The total max supply of the KXS token is capped at 5,000,000,000 KXS (5B) which makes it more accessible and usable in-game than the KXA token.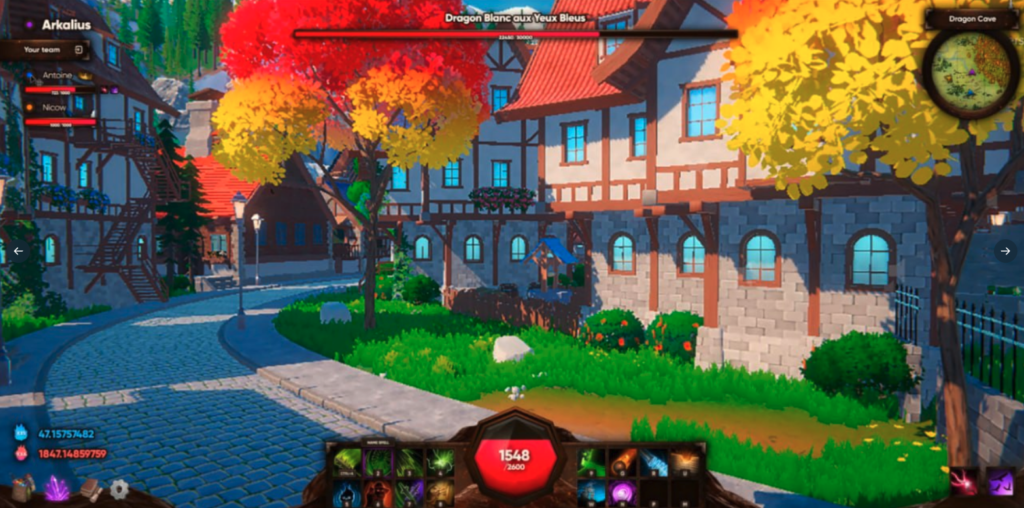 Major upcoming developments
Kryxivia is still in its early development, but the developers are making steady progress toward its release. The game is currently launching its IDO on several platforms (EnjinStarter, Unicrypt, Poolz, StarterXYZ and BullPerks). Following the TGE, users will also be able to track KXA's price via CoinMarketCap and CoinGecko.
The most significant developments will occur in the coming year. The WebGL-based game is expected to be completed during the first quarter of 2022, allowing it to launch into pre-Alpha access for a select few players. There should also be a ready-to-use marketplace in-game at that time, allowing in-game items to be traded on-chain.
After the second quarter, Kryxivia will be in beta. The remaining functionality will be built out during the flurry of development. Kryxivia will then welcome a massive influx of players, who will all compete for power and wealth, both inside and outside of the game. Upon achieving that goal, Kryxivia will have proven that its blend of NFT assets and innovative web-based gameplay is the future of blockchain gaming. 
More about KXA on the Kryxivia website kryxivia.io. Visit the Kryvixia Medium page, follow @kryxivia on Twitter, or join the Telegram group to stay informed of the project's latest developments.
Disclaimer: This Press Release was sponsored by Kryvixia. ICO Hot List does not endorse or recommend participating in any initial coin offerings. ICO Hot List has received compensation from Kryvixia to be featured in this article.