Overview
Name: 

Popcorn

Token ticker: 

POP

Token Type: 

Ehtereum, Polygon, Arbitrum

Website:

 

https://popcorn.network/

KYC: 

No

Country Restriction

: USA

Whitelist: 

No

Token event: November 29th to Dec 2nd


 
Company purpose and problem-solving ideas
Popcorn is a DeFi platform that enables users to earn a high yield on their crypto assets while supporting positive real-world impact projects. The earnings of the projects will be used to fund social impact organizations that token holders have selected and elected. 
The Popcorn Team believes that while DeFi products can be developed to generate yield, participation incentives can be implemented to create a sustainable system that produces and shares value between different classes of participants. 
The platform uses a system of quasi-quadratic votes, a collective decision-making procedure involving individuals allocating votes to express the degree of their preferences rather than just the direction of their choices. Quadratic voting works by allowing users to "pay" for additional votes on a given matter to express their support for given issues more strongly. Quadratic Voting results in voting outcomes aligned with the highest willingness to pay, rather than just the outcome preferred by the majority regardless of the intensity of individual preferences.
This voting system is believed to lead to a practical way of funding beneficiaries, leading to social impact on a large scale.
Highlights
Creating Social impact

 – A percentage of the fees (e.g. 20-50%) generated using Popcorn smart contracts is allocated to social impact initiatives. The Popcorn governance token holders elect these organizations. These nominated organizations are called beneficiaries.

Generating yield on the users crypto-assets

 – Popcorn intelligent contracts allow users to generate yield on their crypto assets by automating yield generating strategies. Popcorn enables functions such as claiming, staking, re-supplying, leveraging, and swapping cryptocurrencies. Through those POP token holders can 1) Save Time, 2) Pay fewer transaction fees 3) generate yield on their crypto assets.

Creating real-world impact

 – Popcorn governance token (POP) holders may nominate and elect beneficiaries through a multi-step proposal process. First, a beneficiary must be designated and accepted by POP holders. After a beneficiary is admitted, it may then be awarded a grant through a separate voting process.
Token Usage
The holders of POP Nomination Tokens who wish to participate in Popcorn governance matters, such as beneficiary nominations and grant election, must lock their tokens to receive nontransferable vote escrow tokens. Token stakes will determine the voting weight. 
To become eligible for a grant, an organization must go through a multi-stage process. In summary, prospective beneficiaries are nominated via a Beneficiary Nomination Proposal (BNP) to be eligible for grants. Only successfully designated beneficiaries may be considered for assistance. 
An organization wishing to apply for eligible beneficiary status may acquire the requisite number of tokens to raise a BNP, or they may reach out to the Popcorn Foundation to seek a nomination at no cost.
Grants have a fixed term, which means they are awarded only for the period laid out in the grant. Grant terms can range from one month to three months to a year. The governance token holders vote on which top-ranking beneficiaries should receive commissions. In return for receiving a grant, beneficiaries will receive a percentage of fees collected by Popcorn smart contracts during the grant term. Of the top-ranking beneficiaries, only a certain number of eligible beneficiaries will be awarded a grant.
Token Distribution
Token Distribution:
(55,15%) 

POP Ecosystem

(18,84%) 

Early Contributors

(12%)

 

Team

(3,25%) 

Partners/Advisors 

(5%) 

Foundation

(3,75%) 

Liquidity Bootstrapping Pools

(2%) 

Airdrop
Total Supply: 100,000,000 POP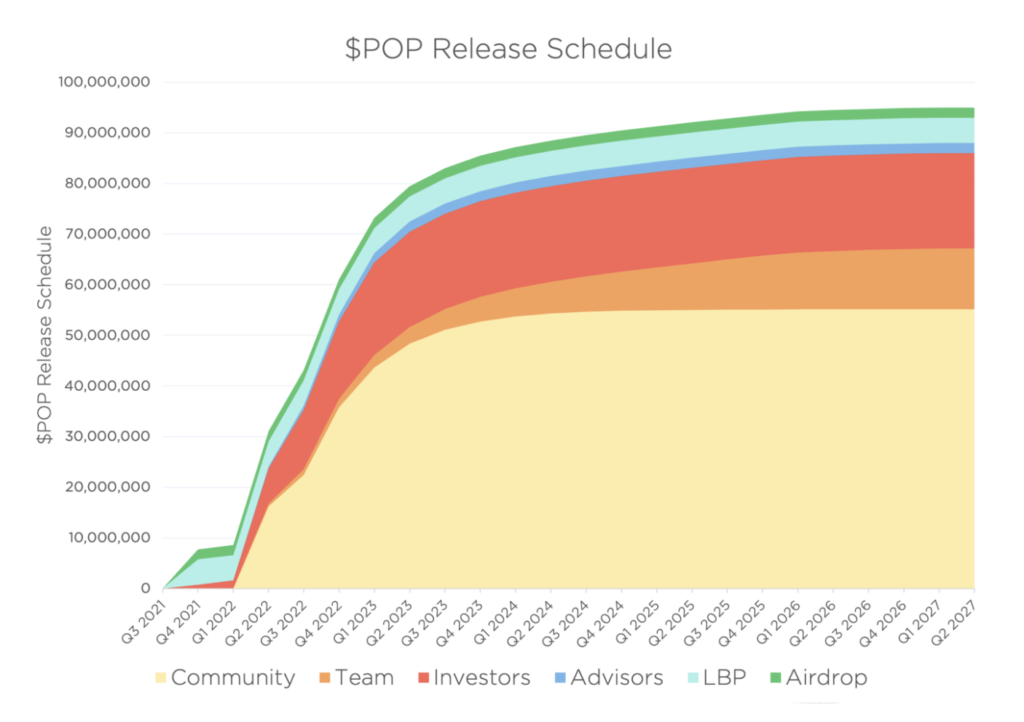 Notable partnerships
Achieving Carbon Neutrality with Patch: Popcorn has recently announced a partnership with Patch — the first-ever API platform allowing businesses to neutralize their carbon emissions.
In a press release, Brennan Spellacy, CEO of Patch, stated that:
DeFi has the potential to deliver significant social impact while still generating returns for users. Popcorn is working to make this potential a reality by offsetting their emissions mapped to running on Ethereum and allocating a meaningful portion of yield to high-impact carbon removal and offset projects.
This collaboration aims to combat the high energy consumption associated with Proof-of-Work (PoW) mining. 
 

Advantages
Quadratic voting as a more efficient system to bring positive change

: For blockchain technologies to fulfil their promise of decentralization, it will be crucial to pay close attention to how these systems are governed. 

Using quadratic voting, a person allocates more votes to a position based on how strongly they feel about it. There is no limit on the number of times voters may vote; however, each vote/token costs progressively more as time goes by.

Solving issues within traditional voting mechanisms

: The tyranny of the wealthy minority can also be addressed with quadratic voting. If a wealthy minority can buy votes and sway the results of a position, then we lose the equity inherent in democratic processes.

A quadratic voting system could help rectify these pitfalls by ensuring that voters' views are taken into account in the voting process and ensure that the cost of buying many votes is prohibitive.
Potential Drawbacks
The Popcorn platform does not protect against Smart Contract Risk:

 Yield Farming DeFi runs smart contracts; smart contracts are codes stored on the blockchain that are executed once a condition is met. By using smart contracts, yield farming eliminates the middleman from traditional finance. However, there are concerns over the susceptibility of smart contracts to cyber-attacks and other inherent risks. Hackers' exceptional programming skills are not what leads to the most high-profile security breaches in the DeFi sector but rather the vulnerabilities in smart contracts.

Other risks involved in Yield Farming:

 Yield farming is a powerful method of generating profits through DeFi platforms. Investors can manage yield farming risk by being aware of the various risks that go along with it, including Price Risk, Fluctuating Gas/Transaction Fees, or Strategy Risk.
More information on the voting system within the Popcorn network are available in the Whitepaper, accessible here.