Lucrosus Capital, the World's First Gamified Decentralized Venture Capital (DeVC), which provides an institutional-level investment opportunity for every individual investor on a massive scale, is pleased to announce the launch of its token sale. Starting on January 17th, the token sale will run until April 17th, 2022.
Lucrosus Capital presentation
Lucrosus Capital aims to transform the way people think about investing by introducing blockchain technology's benefits to venture capital.
Their objective is to transform the world by helping the most successful blockchain businesses grow. Lucrosus Capital believes that Blockchain technology will usher in the next global revolution, focusing on cryptocurrency. The company has several distinguishing features, one of which is using Artificial Intelligence (AI) in the algorithms for analyzing market trends and automating research. The company also applies its complex algorithm for selecting promising projects. This will help investors get an overview of crypto-currency projects with high profitability.
The main focus of Lucrosus Capital is to provide participants with a wide range of opportunities. Every Lucrosus Capital selected project will be open to $LUCA token holders, directly and indirectly. Directly through the Shared Allocation Program and indirectly through the Buy-Back Program. Another direction that Lucrosus believes in is sharing venture fund initiatives with a bigger audience will be more profitable, and it will have a significant favourable influence on the whole sector. 
Shared Allocation Program:  Lucrosus Capital offers a shared allocation program that sets them apart from other cryptocurrencies VCs. Lucrosus gives away part of the allocation in investment projects to $LUCA token holders. The amount that holders can invest will depend on their tier. The tier depends on the number of $LUCA tokens they hold – the more tokens, the higher the allocation:
Gemmo – 5M+ $LUCA; 25% allocation 

Emerald – 1M+ $LUCA; 22.5% allocation

Aurum – 300k+ $LUCA; 20% allocation

Arganti – 100k+ $LUCA; 17.5% allocation

Cuprum – 25k+ $LUCA; 15% allocation.
Gemmo, Emerald, and Aurum tiers will be distributed equally among all tier members. The final two levels (Arganti and Cuprum) will be gamified, and a certain number of people from each class will be eligible to receive a specific allocation amount. For Arganti this will be 200 awarded members, and for Cuprum it will be 300 awarded members.

Buy-back program: As the project develops, Lucrosus Capital will buy back tokens at a lower price, thus increasing profits and decreasing the supply. To achieve maximum efficiency of the token buy-back program, the team will introduce a mechanism to create a constant demand for $LUCA tokens on open market. Lucrosus Capital will use funds generated by trading operations to purchase $LUCA tokens on the open market. The $LUCA token purchase rate will be proportional to the company's perceived profitability and capitalization growth.
Added-value of the project
Lucrosus Capital is an investment company that assists with promising blockchain-based projects to achieve long-term sustainable development. The main task of Lucrosus Capital is to support projects in critical periods by introducing additional investments, thus ensuring the project's further growth and expansion onto new markets. From its unique perspective, Lucrosus Capital focuses on two main areas: developing the most promising blockchain startups from all over the world and backing of already existing operating projects.
Key benefits:
Comprehensive Marketing advisory service

 – Lucrosus Capital provides access to established relationships with the most reliable influencers and marketing agencies in the cryptocurrency world.

Global relationships

 – Lucrosus Capital facilitates connections with numerous experienced, reputable specialists to help address business needs.

Investments

 – Lucrosus partners provide funding in the earliest stages of development, which guarantees project growth.

Experience

 – Lucrosus Capital has years of experience in the crypto market as a team. They use a proprietary combination of technical and fundamental analysis to make investment decisions based on this firsthand knowledge.

Visual presentation of the project

 – Lucrosus Capital provides relationships with specialists in graphic design., who can create a visual representation of their project. A visually appealing project presentation increases new users' attention.
The $LUCA Token
The $LUCA token is a utility token that will be used to access the platform's services. The Lucrosus platform is designed to unite different investors under the same roof. Using the capabilities of the $LUCA token, they will invest in innovative projects and get a high return on their investments.
The $LUCA token is an asset that store value for the private investment fund. It will be used to participate in Lucrosus Capital directly through the shared allocation program and indirectly through the buy-back program.
Token features:
Governance

: The holders of $LUCA tokens can decide about future investments, the timing of buy-backs, and many other activities.

Staking

: By staking $LUCA, users can increase their voting power and the size of their allocation. Moreover, Token holders will be allowed to receive a percentage of Lucrosus's airdrops.

Access to highly advanced research 

– professional research documents created by the team will be available exclusively to $LUCA holders. These documents will contain an in-depth analysis of specific crypto assets from various angles (team, product, market, competition, risks etc.) and a fundamental valuation of these assets by professional analysts from outside the crypto space. 

One-on-One with projects representatives

 – Lucrosus Capital has established the principle of one-on-one meetings with project representatives for token holders willing to get acquainted with a single project or discuss their idea. This approach is an opportunity for companies to run their business in total transparency and to be able to attract investment through a trusted, high-quality and professional platform.
Token Distribution:
(45%) 450,000,000 $LUCA – 

Public Sale

(12%) 120,000,000 $LUCA – 

Private Sale

(3%) 30,000,000 $LUCA – 

Seed Sale

(8%) 80,000,000 $LUCA – 

Development

(4%) 40,000,000 $LUCA

 

–

 

Liquidity

(9%) 90,000,000 $LUCA

 

–

 

Team

(8%) 80,000,000 $LUCA – 

Marketing

(8%) 80,000,000 $LUCA – 

Advisors

(3%) 30,000,000 $LUCA – 

Airdrop
Total supply: 1,000,000,000 $LUCA
More information on the $LUCA token are available here.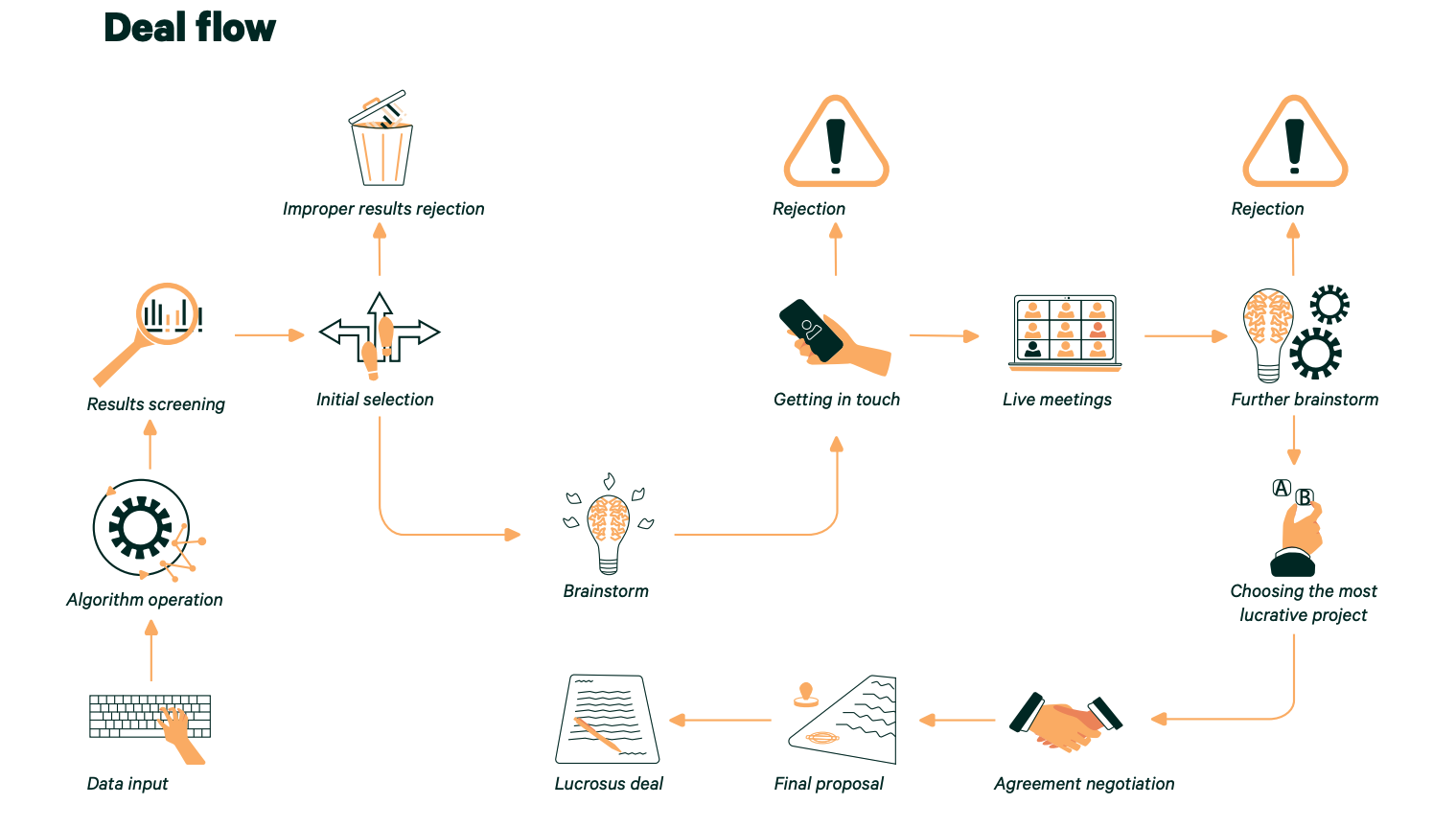 The Team 
Piotr Barbachowski – CEO & Founder: 

Piotr is a cryptocurrency investor and miner with more than five years of experience. He has developed blockchain projects with over $70M of valuation. He is focused on bringing tokenization, the future of modern finance, into the mainstream. He is passionate about electric mobility and the real-estate market.

Jan Różycki – COO:

A blockchain evangelist since 2017, Jan has been a former employee of digital departments of two large consulting firms with proven success in managing teams of over 50 people for several months. Jan is passionate about cutting-edge technologies and the possibilities of implementing them in various economic industries.

Maciej Soczyński – CFO: 

Maciej is a cryptocurrency and commodity market enthusiast investing regularly since early 2017. He has previously worked in the analysis department at a leading bank and currently manages several finances, macroeconomics, and statistics organizations. He is also a Mensa member with a strong interest in applying quantitative methods in investment strategies.

Krzysztof Pietkun – Strategy Advisor

:

Over the last 20 years, Krzysztof has actively invested in startups, M&As and stock markets, developing about 60 innovative financial products in the area of stocks and debt securitization. Krzysztof sees his involvement with cryptocurrencies as a form of groundbreaking decentralized investing.

Mirosław Barszcz – Investor Relations Officer

: Miroslaw is an experienced board member with more than two decades of work in the financial and investment industries. He managed an investment fund focusing on residential real estate with total assets exceeding 1 billion euros in a top investment market of Central Europe. Board member for several telecoms, FMCG, and construction ventures.

Piotr Jeżółkowski – Chief Legal Officer: 

Piotr is a lawyer with over 20 years of experience which helps clients from all over Europe invest in complex projects. He is one of the few attorneys in Poland who truly understand blockchain technology. He sees himself as a person who keeps up with the revolution and challenges posed by cryptocurrencies.

Mateusz Kadłubowski – Technical Specialist – 

Mateusz is a software engineer and computer science student with a broad spectrum of interests in new technologies, particularly in the blockchain industry. He constantly develops his knowledge of the blockchain industry in various fields, including game development.

Helen Voss – Analyst

: Helen is a graduate of a business school and in the midst of legal studies. She has participated actively in the cryptocurrency market for several years. She is passionate about technological development and innovation in all its forms.

Antonio Silva Olias – Representative

: Antonio is currently achieving a Master's Degree in Law at a top university in Spain, specialising in International Law, Foreign Trade, and International Relations. Specializing in the financial markets from an early age, passionate about implementing smart contracts into politics.

Alexander Eggink – Legal Specialist

: Alexander Eggink is a legal specialist specializing in cryptocurrency and stock market investments. A graduate of business school and in legal studies, he is interested in applying blockchain technology to commercial law.

Aleksandra Idziak – Graphic Designer

 – Aleksandra is a graphic designer currently studying new media art at interior design. Her work focuses on visual communication and graphic design.
Notable Projects and Upcoming Developments
Student Coin: Lucrosus Capital is the most critical partner for Student Coin. Their close involvement in the project's development has given the Lucrosus team priceless experience and knowledge directly from the cryptocurrency market. Moreover, it has created an opportunity to set up numerous relationships and partnerships. Student Coin is the first crypto platform that allows users to easily design, create, and manage personal startup, NFT, and DeFi tokens.
Smart marketing Agency: Smart Marketing is the first agency to help clients on the blockchain gain exposure and enter the fast-growing cryptocurrency market. Lucrosus Capital is pleased to provide a bridge between new projects funded by Lucrosus Capital and Smart Marketing, encouraging rapid growth in both.
Samko Development: Samko Development is a real estate company based in one of the most growth potential cities in Europe. That company is partnering with Lucrosus Capital, allowing Lucrosus to make relationships and connections with investors in the traditional market. On the other hand, Samko's real-estate experience has allowed it to launch a research department tasked with finding new ways to finance real estate through blockchain technology.
Overview
Name: 

Lucrosus Capital

Public Sale Start Date

: January 17th, 2022

Public Sale End Date

: March 17th, 2022

Token ticker: 

LUCA

Token Type: 

BEP 20 (Binance Smart Chain)

Website: https://intelly.tech/

Whitelist: 

No

KYC:

 No

Soft cap: 

$1 000 000

Hard cap:

 $20 000 000 
If you don't want to miss $LUCA Public Sale, sign up now: https://www.lucrosus.capital/, and be one of the first to buy! More about $LUCA on the website!
More information on Lucrosus Captial is available in the Whitepaper, accessible here. Follow @LucrosusCapital on Twitter, or join the Telegram group to stay informed of the project's latest developments.
Disclaimer: This Press Release was sponsored by Lucrosus Capital. ICO Hot List does not endorse or recommend participating in any initial coin offerings. ICO Hot List has received compensation from Lucrosus Capital to be featured in this article.