Early in 2022, Play It Forward (PIF) announced the completion of its 6M USD private round, co-led by Signum Capital, Kyber Ventures, and UOB Venture Management. This was shortly followed by its successful Token Generation Event held between January 19th and January 22ns, raising 3,2M USD on Copperlaunch. 
Play It Forward DAO (Token $PIF) is a decentralized autonomous organization, or DAO for short. The PIF team is building a Play-to-Earn ecosystem that will reward users for their time and effort in online games. 
Play It Forward presentation
Play It Forward is the first community self-governed digital asset on the Metaverse Blockchain, which allows users to earn $PIF tokens through online sessions. PIF is bringing the Metaverse to the people by adding a fun spin on the Play-to-Earn ecosystem to online gaming. Active and conscious players (i.e. not bots) earn Play-To-Earn rewards while helping create an ecosystem that fosters social change.
The main role of the DAO will be to provide a space for players to get together and organize themselves into guilds, allowing them to compete with each other in fun environments while earning rewards! Over time, we plan on adding more functionality to this portion of our ecosystem, including Guild management tools and analytics dashboards for sponsors (investors) so they can keep track of their sponsored guilds.
The unique aspects of the Play It Forward DAO project
Play it forward DAOis a market-leading guild management platform that will give gaming guilds and players a seamless Plug-and-Play experience in the Metaverse and build immutable profiles for their Play-to-Earn journey.

It is one of the largest guilds globally clocking in at over 3000 scholars and 40000 community members poised to enter more markets and bring Play-to-Earn to more communities in need.

Moving forward the PIF ecosystem will mobilize capital to enable more users to access the Meta.
PIF is a new paradigm in the online gaming industry. Gamers will benefit from their unique business model, including a P2E Board, an aggregator of immutable data for players and guilds across their gaming histories, and the PIF Guild, a leading Play-to-Earn guild with 3,000+ Scholars across Asia, managing NFT assets both for the DAO and external sponsors.
The P2E Board
The P2E Board will be the community hub for all things related to Play-to-Earn in the Metaverse. The place where players, guilds and sponsors (investors) can congregate, engage with each other and learn about opportunities in Play-to-Earn gaming.
Players deserve to be treated as scholars of their Play-to-Earn career path that they work hard to achieve through their actions and deeds. The P2E Board helps players in that endeavour with the following:
Providing an immutable Scholar Profile for each player, so their achievements are not only verifiable but also portable from game to game; 

Providing an Earnings Tracker for each player that shows their exact earnings in real-time using on-chain data for full transparency; 

Serving as a Guild Verification system so players can quickly see which guilds are worth joining and which ones are not; 
All Gaming Guilds members of the PlayItForward DAO get customized tools to streamline and automate the scholar review process. This way, members can manage their guild and showcase its work and performance in the Metaverse to attract sponsors.
The PIF Guild
PlayItForward uses the DAO to protect the interests of its members and grow the player base. Guilds are the focal point by which the interests of Play-to-Earn game developers and gamers are balanced.
The Axie Infinity Scholars Program was started in July 2021 with 30 scholars from the Axie Infinity Discord community who shared a passion for this game and believed in a shared vision. The program was intended to help people understand the process of Blockchain gaming while they created an entry point into the cryptocurrency world. This community grew to 3,000
The $PIF Token
The $PIF Token is at the heart of the PIF DAO's ecosystem. Guild managers can exchange $PIF for access to P2E Board — a powerful tool for managing their guild's growth and success. On the other hand, players can use $PIF to join, leave, or vote within their favourite PIF community.
Staking – Token holders will have the opportunity to stake $PIF tokens for recurring airdrops from the revenues collected from the P2E Board platform. PIF DAO aims to set aside a large number of tokens in the first 12 months post-TGE to reward those who stake their $PIF tokens and support their project. The PIF team will release more details about their staking program in the weeks following their token launch auction.
Platform Benefits – PIF guild members will play a key role in defining the PIF roadmap for growth and expansion into Play-to-Earn and NFTs sources of value creation. With an initial focus on incentivizing players to engage with DApps (and vice versa), PIF token holders can expect future updates on new skill-based games and tools that will be released across the P2E Board ecosystem.
Treasury NAV = Play to Earn INDEX – The future of PIF Token lies in its continued expansion into more games and countries, creating PIF Guilds in new regions. As PIF Guild continues to expand into more games and countries, the $PIF token will take on the characteristics of an accurate index play on the Metaverse – across:
Value accretion from NFT price appreciation.

Income generation from profitable scholarship and inventory management programs.

Growth in platform revenues as we onboard more guilds and players into the Metaverse.
Governance – The PlayItForward DAO will enable every PIF guild member to have a voice in the direction of our growing platform. Token holders will be able to vote on proposals, and voting power will be proportional to the number of tokens held versus the overall circulating supply at the time of voting. This will allow our platform to grow while ensuring that all parties are fairly represented in the decision-making process.
A well-designed system is only as good as its implementation. The PlayItForward DAO will be built with a focus on transparency, accountability and efficiency to ensure that all stakeholders have a voice and can rely on the system's integrity.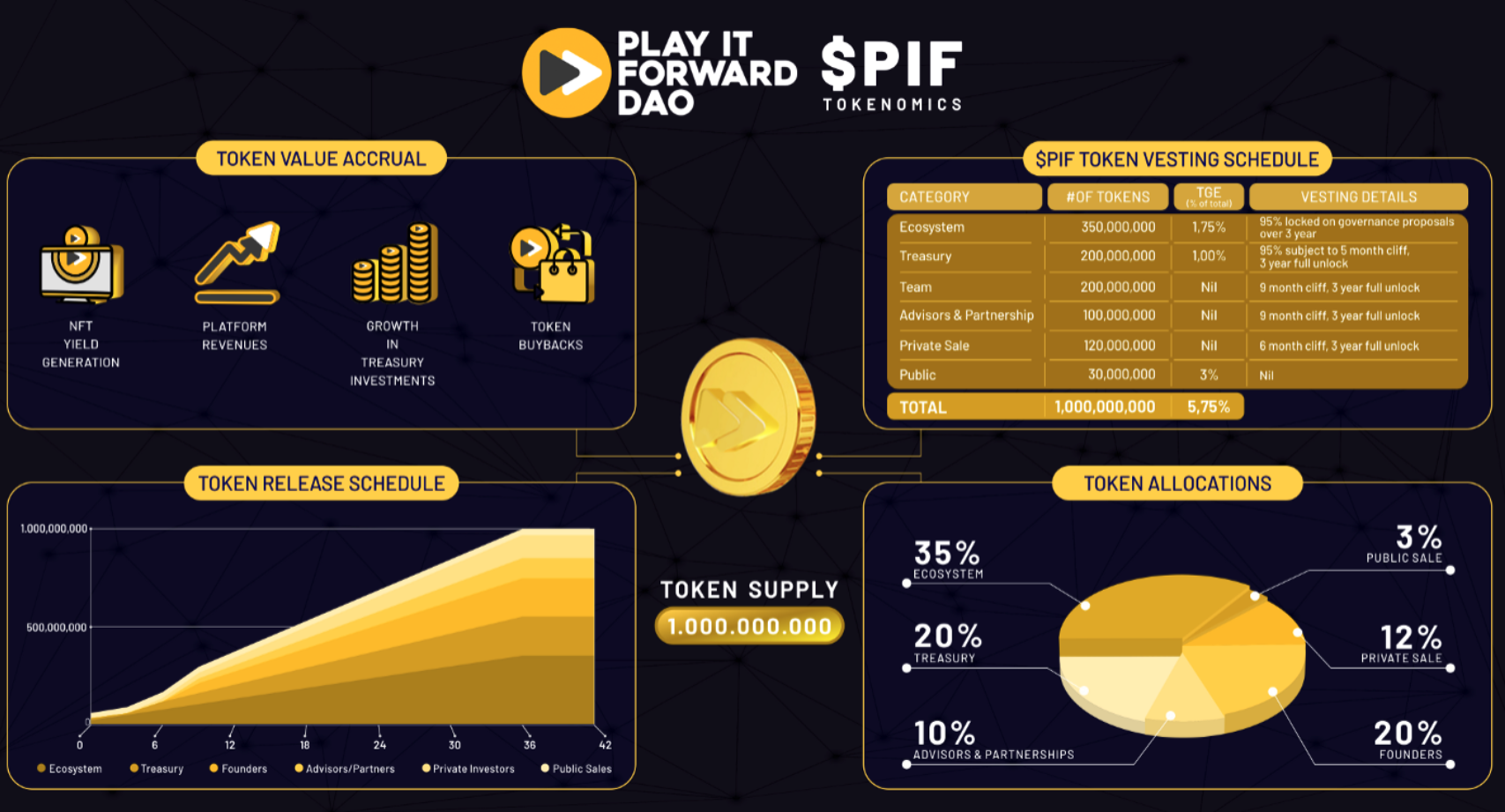 Token Supply
As a DAO, Play It Forward is committed to the long term success of our community. The PIF tokenomics emphasize health, longevity and growth. The Team believes that these aspects of their token model will lead to a more sustainable token over time.
In the spirit of their mission, Play It Forward DAO has set a capped token supply of 1,000,000,000. In addition to that, the Team has implemented several Burn mechanics who ensure that there will never be more than 1,000,000,000 $PIF tokens in existence.
The 1 billion cap ensures that the intrinsic value of each $PIF token is always relevant and can never increase due to inflation. This will provide a stable foundation for developing the PIF community and network health over time.
The Team 
Cholo Maputol – Chief Executive Officer: Before starting PIF, Cholo spent about a decade in the financial services industry, most recently leading the South Asia DCM business for ANZ Bank and having previously held the same role in Merrill Lynch. Cholo has been an active investor in crypto since 2017 and is a passionate believer in the potential of Web3 and Play-to-Earn to enable positive financial outcomes for all.
Janze de Guzman – Chief Strategy Officer / Platform CEO:  Janze is CEO at P2EBoard and Head of Strategy at Play It Forward. Janze is passionate about Web3 and community-driven platforms. He co-founded Leaguerboard, a sports league and tournament management platform.
Rupert Cabrera – Operations Lead: Rupert is the Head of Operations at Play It Forward (PIF). He also leads a Philippine-based tech startup engaged in software and systems development. Rupert has 12 years of experience in IT consultancy and project management, with a particular focus on community engagement platforms.
Arlo Cristobal – Automation Lead / Guild CTO: Arlo oversees technology, security solutions, and automation at Play It Forward. Before joining Play It Forward, he worked as a technology lead and software engineer at the Bank of Montreal in Canada. He is also interested in blockchain technology and practices cryptocurrency mining.
Paolo Sentosa – Chief Marketing Officer: Ricardo is the co-founder of Aemorph Pte Ltd, a digital marketing agency. He is also an executive director for Leonie Hill, an institutional-based crypto OTC desk owned by Aura Group and an ex-mentor for NTUC future lab programme designed by Impact Hub Singapore. Ricardo joined PIF as the company's chief marketing officer and is responsible for building the company's marketing team and strategy.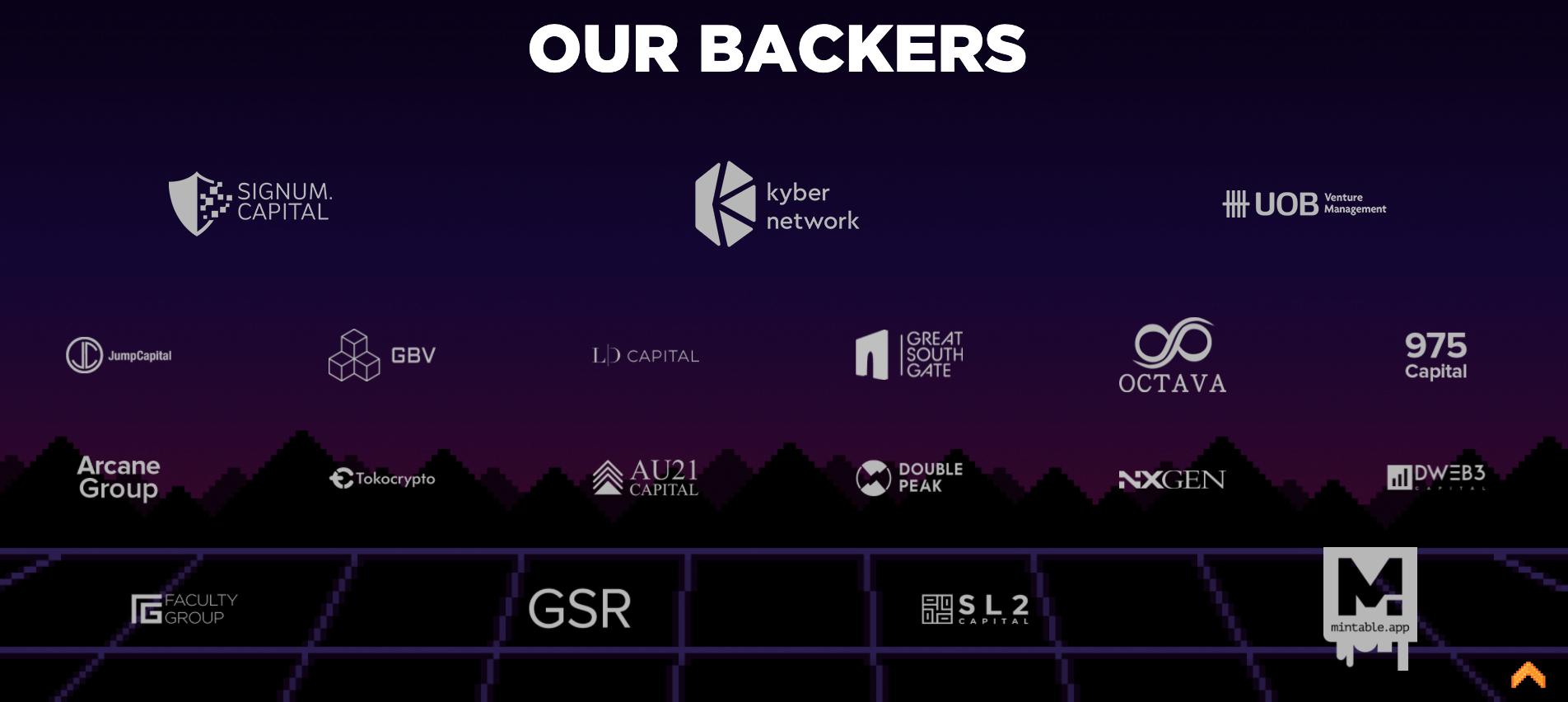 Notable Projects and Upcoming Developments
Partnership with Avarik Saga: PIF will collaborate with Avarik Saga to broaden the game's reach. PIF will provide Avarik Saga players with the ability to share their in-game assets (NFTs) with other players within a guild, thus lowering barriers to entry for the game. Additionally, PIF expects to provide exceptional account management services for Avarik Saga players. Thanks to its P2E Board, users can track their performance and earnings in a centralized location. This benefit is multiplied as players diversify their portfolios by interacting with other games built on the P2E platform.
Lastly, PIF will make it easier than ever before for players who borrow assets to share the profits of their use with those who lent them the assets in the first place. This streamlined process will ensure maximum transparency, security, and fairness. Furthermore, it will significantly limit the possibility of disagreements and frustrations between borrowers and lenders.
Partnership with Ethlas: Ethlas is a free-to-play, pay-to-earn game platform that allows users to play and earn rewards. Within a short eight weeks of launch, they have already surpassed 2.5 million gameplays. 
In December 2021, Ethlas closed its in-game currency pre-sale, supported by major crypto and GameFi players. Polygon Foundation awarded it Best NFT/GameFi Project of the Year. Investors include top executives from various blockchain companies, such as Coinbase, CoinMarketCap, Grab, etc.
This partnership will empower Play It Forward and Ethlas to offer their users connectivity between games like never before. Ethlas will give them access to dozens of games, each offering its gameplay and reward opportunities. Meanwhile, Play It Forward will connect the data and communities built on Ethlas with dozens of other play-to-earn games that aren't on the Ethlas platform. Since Play It Forward is focused on creating cross-game guilds, players will be able to build more robust networks across all their favourite games, multiplying their earnings potential in the process. In addition, they'll be able to see their data and rankings from every game in a single location.
Overview
Name: Play it Forward DAO
Public Sale Start Date: January 19th, 2022
Public Sale End Date: January 22nd, 2022
Token ticker: $PIF
Token Type: ERC 20
Website: https://playitfwd.io/
More information on Play It Forward DAO is available in the Whitepaper, accessible here.
More about $PIF on the website. Follow @PIF_DAO on Twitter, or join the Telegram group to stay informed of the project's latest developments.
Disclaimer: This Press Release was sponsored by PIF DAO. ICO Hot List does not endorse or recommend participating in any initial coin offerings. ICO Hot List has received compensation from PIF DAO to be featured in this article.