The PLSPEAK project is making significant progress, and the Team behind is offering an update on their sacrifice phase, what has been accomplished so far and what is planned for the future. PLSPEAK is a unique venture that aims to provide a voice to the people, delivering on the promise that blockchains are speech and Freedom of Speech is a protected human right, a core principle of the PulseChain network. 
PLSPEAK combines the power of the PulseChain blockchain technology with innovative new features that will allow users to discuss and trade on the world's most highly debated topics. 
Company purpose and problem-solving ideas
Social Media users are constantly inundated with advertising, spam, and scam comments on platforms like Facebook and Twitter. Adding to that, random censorship by these mainstream platforms also limits their users' ability to express themselves freely, leading many people to search for a better alternative. However, most of these emerging social networks are simply copycats of existing platforms, offering little innovation or originality. This has left many people feeling frustrated and disillusioned with the current state of social media.
With PLSPEAK, users can discuss the most highly-debated topics with like-minded individuals and trade on their forecasts of highly debated topics (political elections, sports events, media events…). Users can also build a portfolio based on their predictions and earn yield if the prediction turns out to be correct. PLSPEAK doesn't suffer from political correctness and is censorship-resistant. The platform guarantees Freedom of Speech to its users. 
The Team behind the project believes that everyone should have a voice. That's why PLSPEAK's mission is to create a social platform that is completely unbiased. 
PLSPEAK is changing the way people interact with the news and helping create a more informed and engaged citizenry. What sets PLSPEAK apart from other Web 3.0 Social media platforms is that users can earn yield if their predictions are accurate. This incentive means that users are more likely to research their predictions before making them, resulting in more accurate predictions overall.
Highlights
Volume Boosting 

– PLSPEAK provides a unique opportunity for users to share their opinions and be rewarded for their contributions to the discussion. PLSPEAK differs from other prediction markets in that it incentive users to post insightful ideas and discuss with other users respectfully. Thanks to the engagement mechanics of the platform, users may also reward $SPEAK token to others who share the same view as them.

Quality of Comments

– Given the importance of online communities and user-generated content in today's social media landscape, many users have expressed a desire for increased transparency in online comment sections. By creating badges that show the user's size of market share (represented by maritime animals such as whales, sharks, squids, turtles…), PLSPEAK gives users more clarity and credibility when they post their opinions on various topics.

This would increase the overall quality of comments, but it would also help strengthen the connection between users and their own opinions. With this added sense of ownership and control, users will be more likely to participate meaningfully in online discussions, thereby helping to drive innovation and growth in today's interconnected digital landscape. Additionally, higher-quality comments lead to more valuable insights and more reliable information sharing–an invaluable asset in any competitive environment. 

Informative value 

– PLSPEAK is a new way of looking at information. The Team believes that the market shows the most truthful information about a topic. They have created a platform that enables their users to filter out meaningless information quickly and find the truth directly. PLSPEAK is an efficient and unbiased way to get accurate information on any highly debated topic. 
What is a prediction market protocol?
PLSPEAK is a social media platform that connects a social platform with a prediction market protocol. A prediction market protocol is a computer protocol that facilitates the creation and operation of markets used to predict future events. These markets are usually designed to allow traders to buy and sell contracts that bet on the occurrence or non-occurrence of particular events.
PLSPEAK would provide the users with an avenue to voice out their thoughts and views on various topics and offer predictions, enabling users to put their money where their mouth is directly. This would create a safe and PLSPEAKING environment for everyone involved and create an incentive for people to share truthful and insightful information. As more and more people flock to PLSPEAK in search of a better social media experience, PLSPEAK will only continue to grow and innovate, eventually leading the way for other social media platforms to follow suit.
$SPEAK Token Usage
$SPEAK is the native deflationary token of the PLSPEAK platform, designed to facilitate the sharing of insightful opinions and prediction trading. A user-facing token, $SPEAK can be used to pay for various market fees, including fees for placing predictions or sending $SPEAK to other users. Additionally, PLSPEAK can have a variety of uses within the protocol, such as providing liquidity for other tokens or helping to secure the PLSPEAK platform from potential attacks or other vulnerabilities. Finally, users who hold $SPEAK will also be able to take part in DAO voting processes regarding the platform's governance decisions. 
With many distinct benefits for $SPEAK holders, this token is integral to the PLSPEAK platform.
Buy and burn $SPEAK – PLSPEAK is designed to have its supply capped after its initial launch. In addition, a part of the market processing fees will be used to buy $SPEAK back and burn it. As more users would join the platform and settle their fees, the effects of the buy and burn scheme would be amplified, with the total supply of the token significantly reduced. Thus $SPEAK holders could hugely benefit from its appreciation value.
Staking $SPEAK: As a $PLSPEAK holder, users also can earn passive income through its staking mechanism. This sum and the market processing fee will be distributed to PLSPEAK holders in stablecoin, providing a steady stream of income consistently growing over time.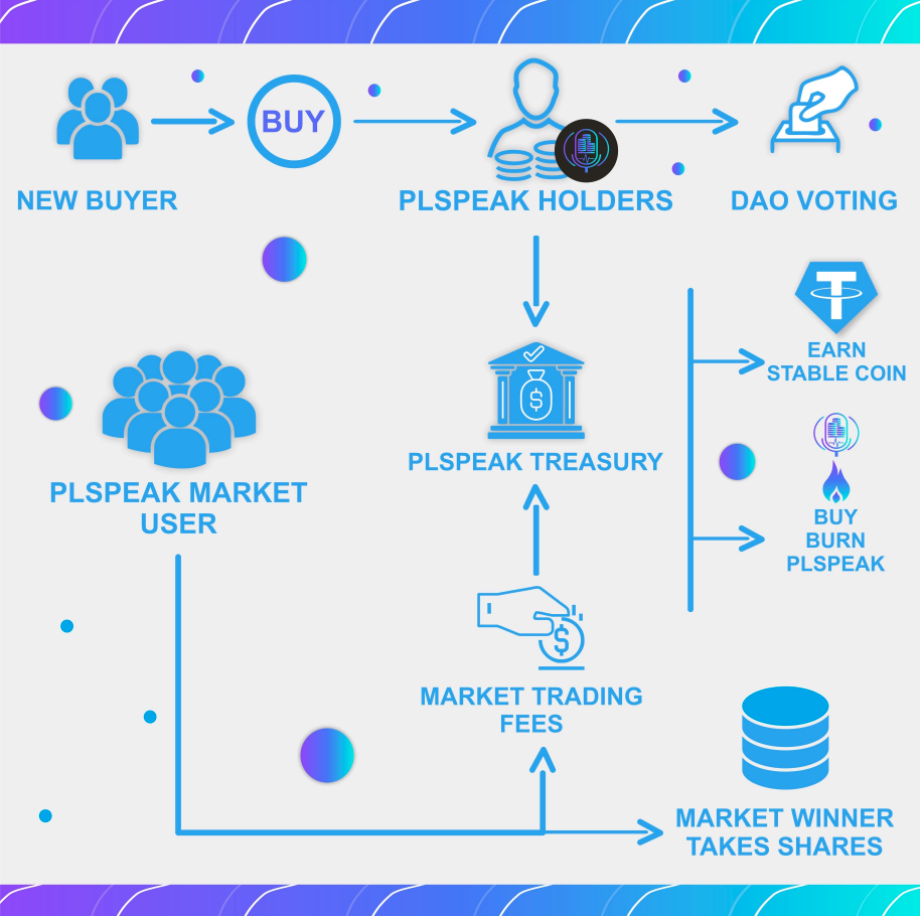 $SPEAK Token Supply
The supply of $SPEAK will be determined by the total USD value sacrificed to the PLSPEAK contract. All $SPEAK will be minted shortly after the sacrifice has taken place, ensuring that there is a fixed supply of this valuable cryptocurrency. According to the PLSPEAK Team, the $SPEAK token will have a fixed supply upon its launch. Once the token contract goes live, no more tokens can ever be created or minted. As a result, PLSPEAK will become increasingly rare over time, making it an attractive vehicle for those seeking a safe and secure crypto asset. 
The PLSPEAK team is committed to providing a fair launch for $SPEAK. There will be no team tokens issued, ensuring that all participants have an equal opportunity to participate and create a sustainable and successful project.
Additionally, the immutable nature of the PLSPEAK smart contract means that it cannot be tampered with or altered after launch. This will reduce the risk for participants and help to stabilize value in the long term further.
It should be noted that $SPEAK holders should have no expectations of profit from PLSPEAK. 
Bringing Mainstream adoption to PulseChain
PLSPEAK is a groundbreaking new social platform built on the PulseChain blockchain. With its unique combination of cutting-edge technology and engaging, user-friendly features, PLSPEAK aims to be the leading Social Media platform for mainstream adoption of the PulseChain ecosystem. 
By using the PulseChain blockchain, the PLSPEAK team can ensure that the platform is censorship-resistant. Since PLSPEAK is built on a decentralized network, users' opinions cannot be shaped by the control of a small number of giant corporations. The decentralized structure of the PLSPEAK platform makes it very hard for anyone to control or censor content. As the PulseChain network grows and evolves, PLSPEAK will serve as an invaluable resource for consumers, businesses, and developers alike.
Staying true to the beliefs and the values that define the users of PulseChain, PLSPEAK is an essential piece of the puzzle as the Team works to bring mass adoption to PulseChain and usher in a new era of communications and data sharing.
The Team
Mike Chan – CEO: Mike is the founder of PLSPEAK, the first prediction market Web3.0 social platform with built-in crypto (powered by PulseChain). A passionate advocate for Freedom of Speech, he is looking to apply Blockchain technology to give a voice to the people. Having been into crypto since day 2016, Mike is also a day 1 Hexican.
Overview
Name: 

PLSPEAK

Token ticker: 

$SPEAK

Token type

: Pulse

Website: 

https://plspeak.com/

Whitelist: 

No

KYC: 

No

Sacrifice Start Date: 

April 15th, 2022

Sacrifice End Date: 

May 15th, 2022
More information on PSLSPEAK is available in their website, accessible here. You can also join the Telegram group to stay informed of the project's latest developments.
Disclaimer: This Press Release was sponsored by PLSPEAK. ICO Hot List does not endorse or recommend participating in any initial coin offerings. ICO Hot List has received compensation from PLSPEAK to be featured in this article.