Overview
Name: Core Multi-Chain
Token ticker: CORE
Website: https://coremultichain.com/
Whitelist: YES
KYC: YES
Jurisdiction: Estonia, Switzerland
Token Type: Native to the CORE platform
Country Restrictions: USA, Canada
PreSale: October 1st to October 15th

Company purpose and problem-solving ideas
CORE Multi-Chain (Cryptographic Object Resource Engine) is a PoS blockchain 3.0 framework focused on Interoperability, Scalability, and Usability.
It utilizes AI-Enabled Proof of Stake Algorithm, Multi-Layered Consensus Model and Voting Based Governance. CORE will provide a higher level of scalability using Advanced Sharding and Pipelining and Chunking and Parallel Transaction Processing. These technologies have made it possible for the CORE network to be infinitely scalable and achieve significantly higher throughput and efficiency.
Core Multi-Chain is the next generation of blockchain protocol designed to enable legacy, current, and future blockchains to scale and communicate seamlessly. CORE offers a wide variety of possibilities in the blockchain space due to its sharding, interoperability, and central algorithm.
By providing a fair and secure platform, CORE allows users to regain control over their personal information. The project offers a scalable network featuring functionalities that bypass current blockchain limitations. CORE intends to offer an environment-friendly system that is sustainable, interoperable and provides enhanced throughput. 
Highlights
Network Efficiency

 – CORE contains an AI model at the core of its blockchain. This AI Model speeds up the network's collective transaction processing times and also enables the network to operate under attacks or faults. 

Security

– The AI model helps coordinate the nodes on the network while also strengthening security on the CORE blockchain. This is accomplished through the network's outlier detection protocol, which monitors for unusual behavior. The AI randomly selects nodes to test and gather data, monitoring network activity outside of the norm. In this phase, any corrupt nodes will be identified. 

Transaction Privacy Protection Layer: CORE transaction privacy protection layer (TPPL) adds an extra layer of security and privacy when transacting on its blockchain. This is a universal layer that is applied to every CORE-connected chain and can be applied to the major public blockchains.

Randomness

 – The CORE Multi-Chain network combines both Verifiable Random Function (VRF) and Verifiable Delay Function (VDF) into a single hybrid solution, thus achieving true Randomness within the network. Randomness influences the difficulty in the mining function of PoW blockchains and periodically chooses the validators in a PoS blockchain.

Scalability – 

To address the scalability issue of Practical Byzantine Fault Tolerance, CORE enhanced the consensus mechanism by reducing the communication complexity within standard PBFT implementations to create the Accelerated Practical Byzantine Fault Tolerance (APBFT) consensus mechanism.
Token Usage
Through the CMCX token, users can conduct transactions on the CORE blockchain and pay for all utility fees within the ecosystem. Platform users can use the token to participate in governance, stake, transactions, intelligent contracts, and reward validators.

Core's mission is to serve the community. Users can vote for management and developer teams using the native token CORE (CMCX). The CORE community provides projects funding. Users will be able to vote on any proposed changes to the blockchain or platform, creating a community-driven blockchain.

Through CORE, all blockchains, past and present, will be able to scale and communicate seamlessly with one another by utilizing the CMCX token.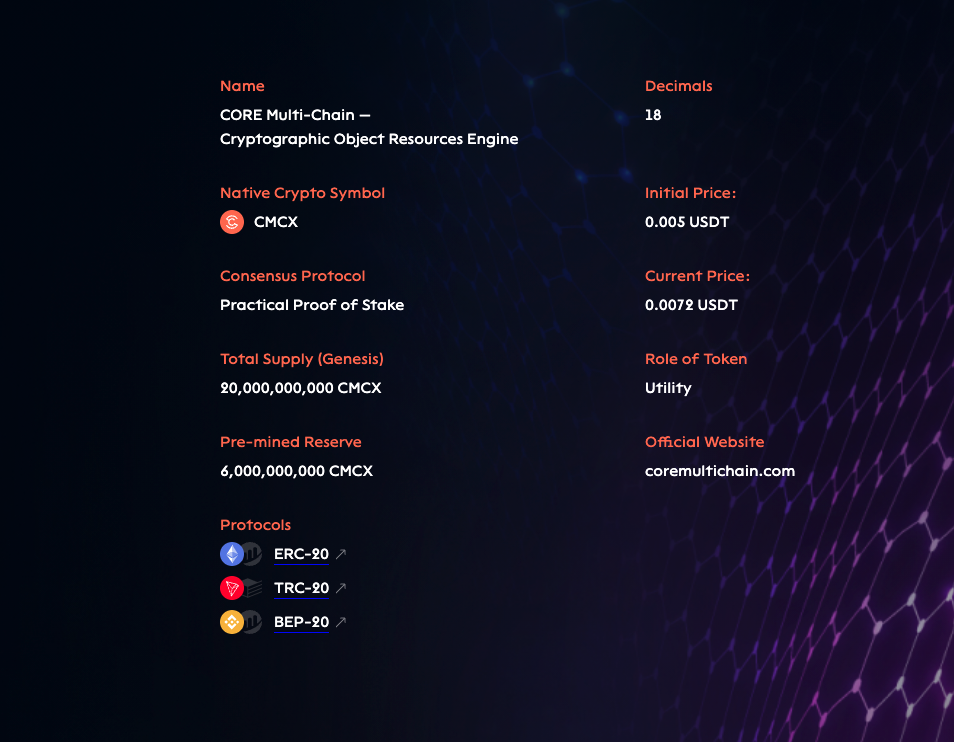 Token Distribution
Token Distribution:
(10%) Ecosystem Rewards

 

 (

5%) Marketing & Operations

 

(3%) Advisory Board

 

(2%) Strategic Acquisitions

 

(10%) Team
(30%) Reserve
Total Supply: 20,000,000,000 CMCX
Token release schedule:
(TGE Event) Pre-Seed Round: 1,000,000,000
Founders Round: 1,000,000,000
Seed Round: 1,000,000,000
Pre-IEO: 1,000,000,000
IEO (Launch Pad Sale): 4,000,000,000
12,000,000,000 CMCX will also be vested in different time locks.
Notable partnerships
IEO on several launchpad exchanges: CMCX is available on several launchpads throughout their Initial Exchange Offerings (IEO). An Initial Exchange Offering is a sale overseen by a cryptocurrency exchange, and those events operate similarly than Initial Coin Offerings. 
 With an IEO, both cryptocurrency exchanges and the projects are putting their reputation on the line. As a consequence, the vetting process and due diligence run by the crypto exchange is extensive. Additionally, ICOs are more accessible to the general public than STOs, and the token sale team is somewhat less likely to suffer repercussions from regulators.
List of exchanges: At the time of this review, during the IEO stage (October 1st to 15th), the CMCX token is available from the below websites and exchanges:
CMCX site

P2PB2B 

IndoEx 

Probit

 
On October 15th, the CMCX will be listed on the following exchanges: 
Hotbit

Lbank

Bkex

P2PB2B

XT

IndoEx

Probit

Vindax

Bitmart

BankCex

CoinTiger
Hoo
Finally, the CMCX token will be listed on Coin Market Cap and Coin Gecko after October 15th, once the Token will be available on exchanges.
Advantages
Extensive research & value proposition to current blockchain limitations

: The whitepaper available on the Multi-chain website provides an in-depth, yet accessible presentation of the responses provided by the team to solve current limitations on scalability, network efficiency, overall security, and reward fairness. CORE Multi-Chain Whitepaper accessible

here

.

Launching through an IEO

: The CORE team has decided to launch the sale of their token through several exchanges. Many participants prefer IEOs because there is a greater level of due diligence. Blockchain projects go through a comprehensive vetting process where their white paper is scrutinized, and their crowdfunding drive will also get publicity.
Security audits available: 

An audit of the network performed by CERTIK is currently available on the CORE Multi-Chain website. This research documents the project's performance in the following criteria: Security, Runtime, Documentation, Testing, General and Transparency.               

 
Potential Drawbacks
Complex incremental innovation: The value propositions of the CORE Multi-Chain project, while notable, are complex. Reducing complex ideas into simple messages is one of the keys to successful innovation. A misunderstood value proposition could hurt mass user adoption, as markets don't reward projects for their complexity alone. They favour ideas that are easy to understand to the general audience.  
Proof of stake favours large holders as they are more likely to be selected to validate nodes and reap the rewards. True Randomness does not equal fairness in rewards distribution if many tokens are concentrated in a small minority of holders. 
Several projects are already working on enabling blockchain interoperability, multiple systems to communicate, and ensuring greater automation and connectivity in operations. Polkadot is a blockchain project which aims to create and maintain interoperability across different chains. Cosmos has created its own SDK platform to ensure that various Decentralized applications and systems communicate.